Hospitality Wears White: Alex Frezza and L'Antiquario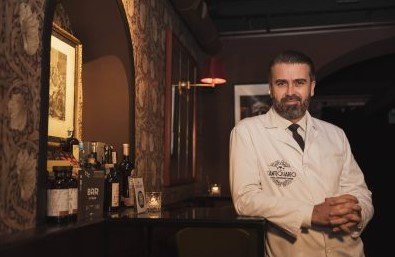 Secluded a few meters from the wide Naples' lungomare, in the throbbing heart of one of the most chaotic and legendary cities in the world, you'll find a narrow street with barely enough space for pedestrians to walk. It's named after a courageous mid-1500s mother, and was once home to a series of antique stores, now disappeared. All but one, that kept its namesake, despite changing everything else: L'Antiquario, Alexander Frezza's tiny but impeccable cocktail kingdom, has long been a force to be reconned with in terms of Italian hospitality.
It was originally conceived as headquarter for a bar catering company Alex owned, and still runs. A sturdy and unmarked door, followed by a black flappy curtain, that grants access to a single, fumoir-like room, vibrating with old school recipes, atmosphere and overall hospitality. Which, ultimately, is Frezza's drive to suit up every night (L'Antiquario only closes three days a year): "Italian bartenders and hosts used to be some of the most professional and experienced around. We have lost that, and we are trying to pull these values back into customers' vision". It all starts with a tie and Alex's signature giacca bianca: so much more than a simple garment.
"White jackets are a symbol of excellent hospitality: try to clean a drop of Angostura off a white jacket, you cannot, you have to be perfect. It's a way to remind ourselves, and our guests, that manners and class are the main tools we should use, to provide for a unique going out experience. A smile is much stronger than a non-perfect bar". L'Antiquario focuses on mixed drinks and champagne, pioneering – some say – a previously almost non existing bar scene in Naples.
Although intellectual hangouts like Gambrinus (one of the most important literally cafes of its times) lived their peak here, and world-renowned bartenders like Salvatore Calabrese and Vincenzo Errico were born in the surroundings, the former capital of Bourbons Kingdom has lacked a real mixology community for quite a long time. Cheap and easy have been the keywords for average local hangouts in the past decades, so the path that led to L'Antiquario's popularity was paved with challenges: "Naples was living in the shadows of other Italian cities. We had to begin from scratch, took inspiration from a few bars all around the world, and tried to adjust to the city's pace, something not everyone can imagine". A great example: "Naples has more than one million inhabitants, and football is a religion. Our events must be planned according to the soccer schedule".
Known as the Captain amongst the bar crowd that he himself put efforts to shape, Frezza, a former architecture student, is continuously active in bringing bartenders from abroad, with guest shifts and masterclasses, in a never-ending push to bring back high-quality hospitality to Naples: obstacles come from all around, not just strictly related to the industry. "Stereotypes are tough to deal with: we still somehow find ourselves attached with a tag about a retrograde city, poorly managed and plagued with criminality. But it's changing, you can feel it and we have proof: seven years ago, the average stay in Naples was one day, pretty much exclusively for a stopover before leaving for Capri, Sorrento, Amalfi. Today it's increased to at least three days, the airport is brand new, the streets have been cleaned. It's about knowing the place and communicating it properly. Bars can deeply contribute to this".
It is an excellent example of how local culture, community and bars are always deeply linked to each other: "Hospitality is fundamental to enrich a city's offer, and it is socially relevant for citizens". Starting a business off the beaten track offers unique challenges, but equally also great rewards: "It's true the competition is fierce, if we compare ourselves to other more mixology-oriented cities; but if we opened in Milan, for example, we could have gone unnoticed. Now, it's about showing how Naples can provide even higher quality than elsewhere, especially to those guests that come visit after trying something very good abroad or anywhere and expect the same".
"We have put everything in discussion in the last couple of years, witnessing how the value of going out spiked. We have to keep the standards high. People are appreciating cocktails more: Italians have a lower consideration of drinks, they spend much more on food, opposite to what happens in the US, for example. It started to change though, and we have to keep working for this to become normality".
Naples' well-established fame, which centres around its citizens' warmth and openness, can now count on a new channel to showcase its richness. More new bars have been opening with the declared goal of pursuing high level mixology culture, thus changing the local habits and providing visitors with a new set of hospitality experiences. Years from now, Frezza can look back with a sense pride and accomplishment, in how him and his bar, led the way towards a new – yet familiar – sense of Neapolitan hospitality. Dressed in white and speaking the language of old fashion hosts: "Trends go on for a few years or so. But classics last forever, and hospitality is the most classic art of them all".
Carlo Carnevale