Skyy vodka – a bar staple from California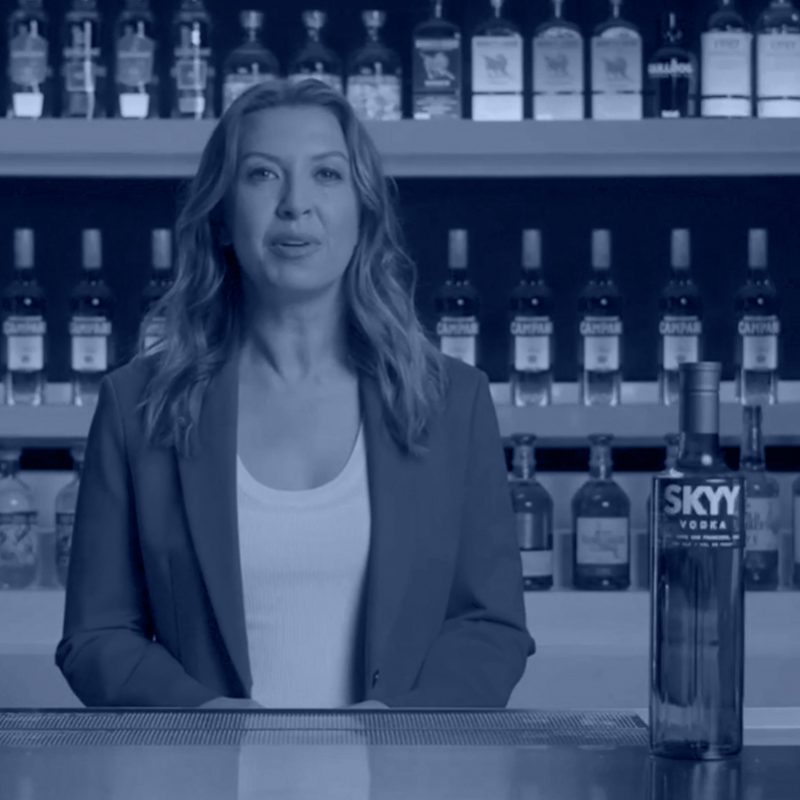 History
SKYY was born in San Francisco in 1992 by an inventor who was driven to create the ultimate vodka martini. He sought to create a better vodka with fewer impurities – and created a proprietary distillation process to do so. He named it after the clear blue San Francisco sky – and put in it in the now iconic blue bottle – the first of its kind. As a true forward-thinking brand with authentic San Franciscan values – SKYY Vodka has surfaced alongside its city in standing for progress through diversity. It was the first spirits company to feature a same-sex female couple in its advertising – and has been actively involved in LGBTQ+ causes from its inception. As a brand guided by innovation – SKYY began exploring naturally occurring elements found in the coastal waters surrounding San Francisco – in order to discover the unique quality that minerals could bring to vodka. As a result, SKYY began enriching the water in their liquid with Pacific minerals to add subtle salinity and minerality – another unique characteristic that embeds the San Francisco Bay Area DNA in every bottle of SKYY.
Production
SKYY is made from 100% American grain – using Corn sourced within a 100-mile radius of the distillery. The grain is milled, mashed, and then fermented using a low congener yeast. The 6% ABV beer is then ready for distillation. SKYY uses a quadruple column distillation process to achieve SKYYgrade distillate – with less than 2.4 parts per million of total congeners. After distillation is complete the new spirit is brought to near bottling strength, with the water used in the dilution of SKYY Vodka undergoing through a purification and mineralization treatment. Key minerals, Calcium, Magnesium, Sodium and Potassium, all sourced from the San Francisco Bay Area are added to the water – with each individual mineral chosen to have a specific impact on the flavour, texture and mouthfeel of the vodka. The new vodka is then triple filtered – First through activated charcoal – then California limestone – and finally, through diatomaceous earth. After filtration, the vodka is diluted to its final bottling strength of 40% ABV. The resultant SKYY Vodka is then, and only then, ready to to go into its iconic blue bottle.
Portfolio and Tasting Notes
SKYY Vodka is made with water enriched with local Pacific minerals from the San Francisco Bay – quadruple distilled – then filtered through California limestone for a clean, fresh taste and subtle minerality – designed to add character to a cocktail experience. – It's the perfect Vodka for a better tasting Vodka & Soda. SKYY's aroma is fresh and clean – with a faint hint of fruit and toasted grain. Its taste is also clean and smooth – with a subtle salinity and minerality on the palate. The Skyy Infusions range – launched in 2008 – is a unique, 100% allnatural infused experience made with premium SKYY Vodka and succulent real fruit. It begins with real fruit – using only natural aromas, extracts, essences and/or juices during the production process. The infusion is then meticulously filtered to achieve a premium quality – leaving a clear finish, smooth tasting and natural flavour-infused vodka. – and the pure taste of the fresh fruit flavours in SKYY Infusions comes alive best when mixed with soda. Cheers!
Key Message on the Product
Some key points to remember when it comes to SKYY Vodka:
SKYY is made with water enriched by minerals – including Pacific minerals from the San Francisco Bay Area – intended to enhance the mouthfeel and fresh taste of a Vodka & Soda. Minerals include Calcium, Magnesium, Sodium and Potassium.
SKYY is made using proprietary distillation parameters within a 4- column distillation process – extracting congeners to levels barely detectable by even the most sensitive testing methods. The result is a SKYY-Grade quality liquid – intended to yield a clean and smooth vodka.
SKYY is filtered through California limestone – with the intention of reinforcing structure, freshness and minerality.
SKYY Infusions are made with real fruit flavours – using only natural aromas, extracts, essences, and/or juices.
And finally – SKYY vodka is embedded with the San Francisco Bay Area DNA in every bottle.
Hero Cocktail – The Skyy & Soda
The SKYY and soda is the brand's signature serve. It's unique characteristics release a fresh citrus flavour from the grapefruit garnish, perfectly counterbalancing its bitterness, resulting in a smooth and fresh taste experience. Fill a highball glass with cubed ice. Add 1 ½ parts of SKYY Vodka. Top with soda water. Squeeze the grapefruit peel over the top and add to the cocktail as garnish. And serve – Cheers!