Drink like a local: Singapore with Jess 'Hutch' Hutchinson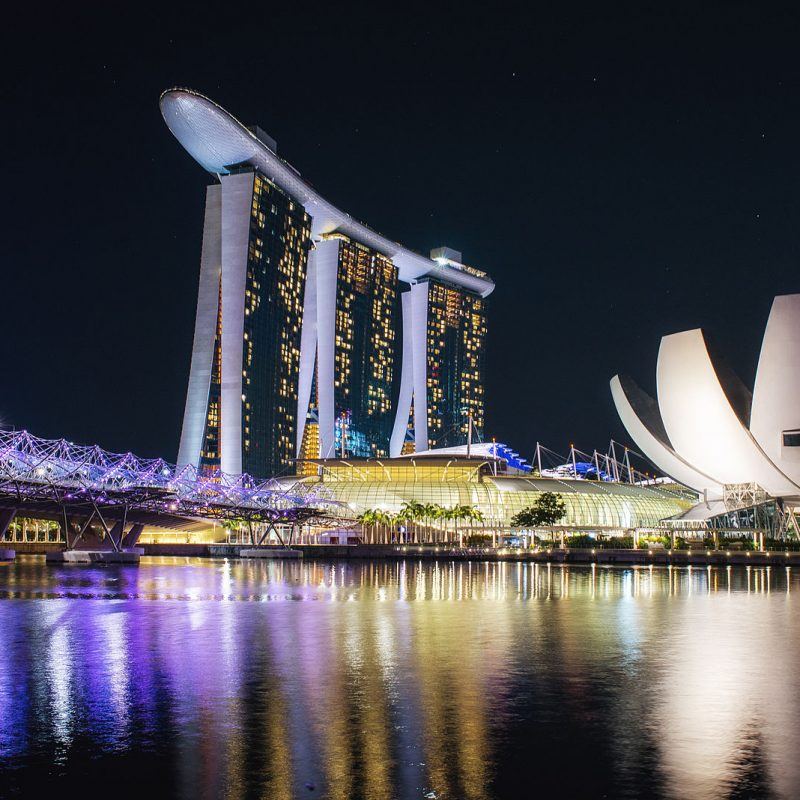 Vibrant, eclectic and full of contrasts: Singapore is unique blend of high-end cocktail bars and high-energy dive bars. Our guide Jess Hutchinson shows us both
Very few places on earth can have a skyline as iconic as the one you can enjoy in Singapore: the ship-shaped top floor of Marina Bay Sands getting fired up by the sunset, while the 165m-tall Singapore Flyer's panoramic wheel rotates, and the Gardens by the Bay's bio-architecture is illuminated.
The 'Little Red Dot' city-state, one of the most prosperous and fast-developing nations in the world, is a pivotal centre of international cultural exchange, yet drenched in local identity: from the musical sound of the native accent, to the shophouses in Chinatown, all the way to unbelievably tasty traditional recipes.
And when it comes to vibrant energy and going out, Singapore is a must-visit destination. It's true the name is, in drinks circles, inextricably linked to the iconic sling that was first concocted at Raffles Hotel's Long Bar at the beginning of 20th century by Ngiam Tong Boon, but whatever your thirst calls for, it is guaranteed you'll find it here. Campari Academy just launched in Singapore, so we joined Jess Hutchinson (or Hutch, as she usually goes by) for a deep dive into the local scene, to discover hidden gems and favourite local spots, for a proper taste of Singapore's nightlife.
Big picture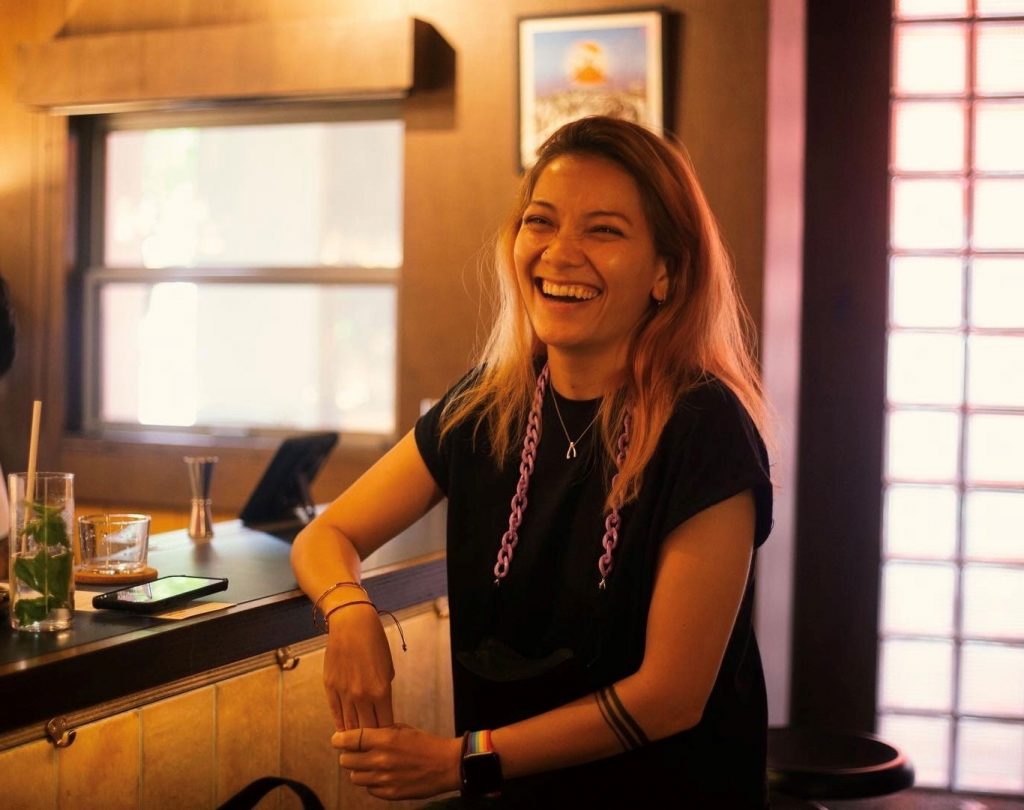 Today a praised bar consultant for internationally recognised venues, Hutchinson is a pivotal character of local hospitality, having been previously part of teams such as No Sleep Club, Proof & Company and 28 HongKong Street. Still involved in the development of new concepts and the nurturing of existing ones, she is also a podcast co-host and the perfect guide for showing us around.
'Eclectic' is the word Hutchinson uses to best describe Singapore's bar and nightlife scene. "There's no one-size-fits-all. You could be the sort of person that enjoys day or early afternoon drinks, and head to places like Atlas, Corduroy Palace and then wrap up before 6pm. You could also be the person that wants to bar hop and hit five bars in one night, which is also possible with certain areas, like Ann Siang Road, where you could find Low Tide, Junior the Pocket Bar, Employees Only, Native and Stay Gold Flamingo."
Outside of drinks, eclecticism also applies to Singapore's attractions. Hutchinson cites former amusement park Haw Par Villa as having a special place in her heart. "It used to be a destination for school trips. It was some kind of pleasantly weird experience, given the chaos and the attractions there. It's been refurbished and doesn't work as an amusement park anymore, but you can visit it and check it out, it's definitely worth it".
Hop on a tiny boat to reach Pulau Ubin and cycle around this minuscule island (where a bar is present, of course); reconnect with nature and forage in the surrounding Mangrove Forest; or visit the magical, powerful Bollywood Farms in the north-west. You could also go to the Brass Lion Distillery, the first Singaporean gin production facility, for a sip of true local heritage.
The food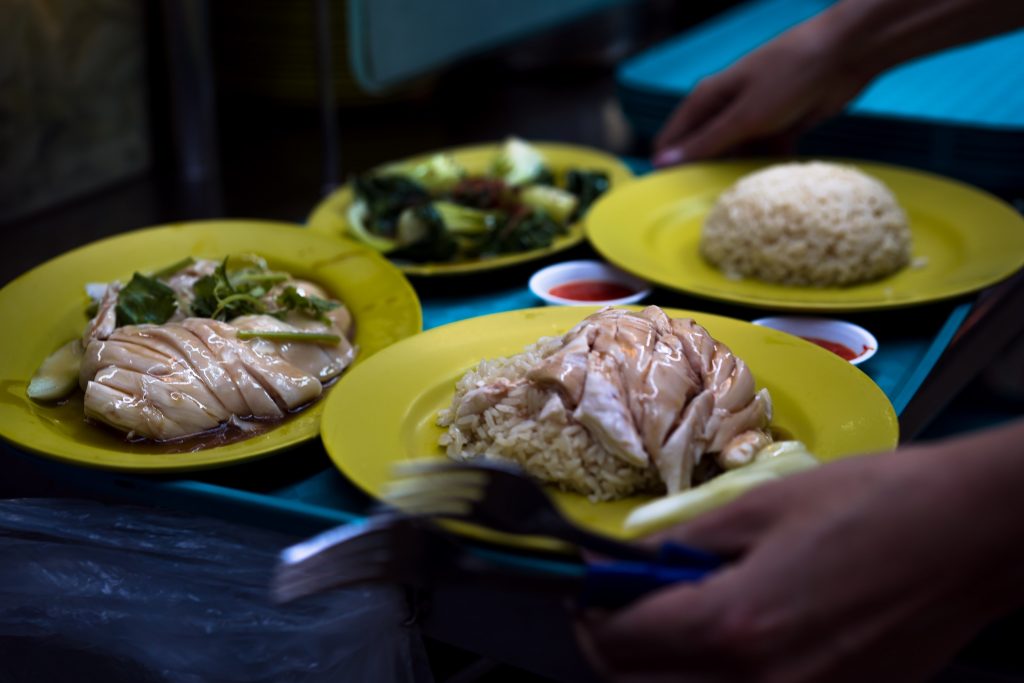 The Marina Bay district is where you'll find rooftops and skyscrapers or take in a show at the Esplanade theatre. But you might rather chill out at one of the iconic hawker centres (open-air food halls) such as Maxwell, right in the heart of Chinatown, in front of the Buddha Tooth Relic Temple. Visiting a hawker centre is a common Singaporean pastime, Hutchinson says: "Since every conversation ends up in food, this is the place to be. Hawkers jam-packed with more than 50 stalls in one single place, with an endless variety of options to choose from, all of them priced affordably."
From Hutchinson's favourites such as chicken rice – "There are so many different ones to pick and choose from, and different factors such as the type of rice, the chicken, the sauce, the ginger, the chilli" – and bak chor mee (minced meat noodles), to traditional desserts like cendol (an iced sweet dessert that contains drops of green rice flour jelly, coconut milk and palm sugar syrup) or ais kachang (shaved ice with red beans), to the iconic chilli crab, the flavours of Singapore are distinctly different. "Food is starting to integrate our local bar experiences too," says Hutchinson "and is one of the things I miss the most when I leave."
Depending on your mood, you might want to get a feel for a different area. You could hang out in the hip section of Joo Chiat Road, where the best food places line up right in front of the seaside; or you might prefer to stay in the central Holland Village area, with its artistic vibe only a few minutes away from the glamorous Orchard Road, the sparkling main shopping district.
The drinks
Singapore has been featuring at the top of can't-miss drinking spots lists for the last few years, thanks to a pioneering approach to craft cocktails, a constant flow of ideas and trends and superb care for detail.
If you ask Hutchinson for an area to hit for drinks, however, there is a clear winner: Chinatown, a web of streets and alleys where the best bars and clubs in town are intersected by temples and museums.
Whatever you're searching for – be it a new, tiny spot that just opened, or one of the establishments that helped put Singapore on the international mixology map (such as 28 HongKong Street and Jigger & Pony, both opened more than a decade ago) – your quest for finding world-class cocktails is one which will be well rewarded.
If you are a bartender, Singapore is the land for some really unique experiences, whether that's for inspiration, stress-relief, or just pure fun.
---
The big list
BARS
28 HongKong Street
Sago House
Jigger & Pony
Offtrack
Naga House
NIGHTCLUBS/LATE-NIGHT
Marquee
Skinny's Lounge
Zouk
Thai Disco
Blu Jaz Café
RESTAURANTS & CAFES
Wine RVLT
MoboMoga
Le Bon Funk
Dawn
Tea Chapter
SHOPPING (wine, beer, spirits)
Wine Mouth
RAW Wines
Temple Cellars
EC Proof
La Maison du Whisky
MARKETS & STREET FOOD
Hong Lim Market & Food Centre
Adam Road Food Centre
Mustafa Centre
Golden Mile Complex
Chomp Chomp Food Centre
EXPERIENCES
Haw Par Villa
Sentosa
Coney Island (Pulau Serangoon)
Pulau Ubin
Marina Bay Sands
---
Tips
Tipping: Tipping is not compulsory, but always appreciated. Cash tips are the easiest, you can choose to inform the staff if it's meant for them personally or to be split amongst the team (if you've had multiple servers)
Getting around: Singapore's efficient underground system is the easiest and most cost-effective way to get around and roam the venues, though there are also private hire car companies like Grab, GoJek and local taxis
Drinking age: 18
Where to stay: Most of the hotels are in Orchard. There are some good ones on Sentosa, and also some nice boutique-y hotels around Little India and Clarke Quay