10 classic drinks from New Orleans you must try at least once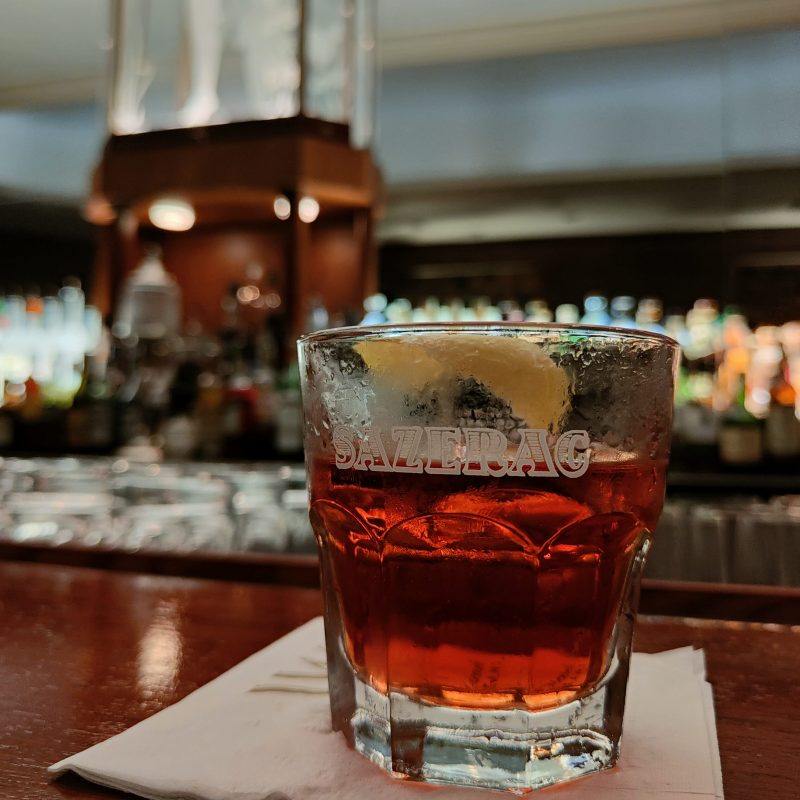 When it comes to deep dives into cocktail history, New Orleans is indisputably a Mecca of the world's drinking scene. With its bustling, loud streets, the twenty-four/seven bars and vibrant energy, Louisiana's most populous city has been home to many cocktail creations that have made liquid history over hundreds of years. With the twentieth edition of Tales of the Cocktail having taken place, let's take a look at the drinks you cannot miss for a true Big Easy experience.
SAZERAC
Elected as New Orleans' official cocktail in 2008, the Sazerac is one of the founding stones of the city's drinking culture. It owes fame to its rich complexity, given by the mix of sugar, absinthe, spirit and its signature ingredient, Peychaud's bitter, named after its inventor Antoine Peychaud. Originally conceived with cognac, in late 1800s, after the grape-based spirit suffered a decline when the phylloxera epidemic decimated France's vines, Sazerac started being served with rye whiskey. The spicier, funkier rye version surged in popularity, although passionate purists would still opt for the original.
The Sazerac was first created in the midst of the nineteenth century, at the then-running Merchant's Exchange Coffee House, and was named after the cognac company "Sazerac-du-Forge et Fils". The bar was rebranded as The Sazerac Coffee House in 1870 and was established as the Sazerac Bar in 1938, when it reopened after Prohibition. In 1949, the Roosevelt Hotel acquired the rights to use the name Sazerac Bar for its lobby bar, and there it has stood ever since. A secluded gem with wooden interiors intersected by original murals, and a heavy walnut bar counter that cuts through the massive room, this authentic piece of history is the ultimate bar to drink your Sazerac in. It's the godfather of New Orleans' drinking culture, and the perfect first stop for any local bar tour.
ABSINTHE FRAPPÉ
Unlike other classic drinks where absinthe plays a minor role, often as a rinse, this fresh and boozy mix sees the anise-based spirit as main character. The Green Fairy is shaken with anisette liqueur and a touch of sugar, to be served in a glass filled with crushed ice and garnished with a mint spring, for a cooling, sweet and herbaceous fix that has stood the test of time.
The Absinthe Frappé was invented in 1874 by Cayetano Ferrer, bartender at Aleix's Coffee House, an 1806 grocery store turned into a tavern in 1815, that changed name to Old Absinthe House due to the cocktail's huge success. Both the drink and the bar survived Prohibition (though the original bar counter was moved after the US Government forced the owners to sell it), and most importantly, absinthe's bad reputation. For almost a century, absinthe was banned from the USA (and many other countries all over the world) due to its alleged links to hallucination and schizophrenia. The ban was lifted in 2007, allowing the Green Fairy to reappear everywhere, and especially here. With its old school facade, card-covered walls and easygoing vibe right on Bourbon Street, this is a must for any bar crawl in the Big Easy, and the Frappé is truly unmissable.
VIEUX CARRÉ
The old square, as the name would translate, is a tribute to New Orleans' French Quarter that hosts the building this drink was invented in – the Monteleone Hotel, which dates back to 1886 and was opened by an Italian merchant. The hotel, which now boasts 600 rooms (it originally opened with a modest 14), and in particular its lobby bar, is where Walter Bergeron first stirred the Vieux Carrè in 1938. It is an explosion of flavours, somehow showcasing the city's melting pot nature, and each and every one of them contributes to a powerful and memorable sip.
Vieux Carrè is made combining rye whiskey and cognac, thus creating a layer of both spicy and gentle richness. Sweet vermouth and Benedictine are added for a velvety herbal note, and the local trademark of Peychaud's Bitter gives the final savoury magic. If you happen to swing by this address, don't worry, it's not your happy imbibing that makes the world feel like it's spinning; since 1949, the Monteleone Hotel has been home to the Carousel Bar, the world famous revolving bar (one full spin every fifteen minutes). With both the unique venue of its heritage and the iconic flavours, the Vieux Carrè feels like New Orleans in a glass.
BRANDY CRUSTA
As the name suggests, the sugar-coated rim is not something to be overlooked. This tangy and vintage cocktail, considered to be the ancestor from which other classics descend, such as the Sidecar, was invented in 1850s by Italian bartender Joe Santini, who had left his native Trieste to strike luck in New Orleans. He went on to run Jewel of the South and City Exchange, with both of them claiming to be the birth place the Brandy Crusta. The namesake brandy is shaken with orange liqueur, lemon juice, sugar, maraschino liqueur and Angostura bitter, and the classic garnish is a signature itself, a lemon spiral to be served covering the upper inside of the glass.
Brandy Crusta's original recipe was long thought to be forgotten, but it rose back to former glory thanks to the research and craftsmanship of Chris Hannah. A former bartender at the legendary Arnaud's French 75, Hannah dusted off Santini's heritage and together with Nick Dietrich opened his new Jewel of the South in 2019. Accessed through a quaint and simple garden, this restaurant bar stays true to its name; it's a beautiful, historic and authentic corner to visit for both food and drinks, housed in a traditional 1830s cottage mere footsteps from the heart of the French Quarter and it's the only place you can truly taste the Crusta, the way it was always meant to be.
RAMOS GIN FIZZ
Amongst the numerous mythic recipes New Orleans holds as local treasures, probably none is more legendary than the Ramos Gin Fizz. Created at Imperial Cabinet Saloon (sadly now no longer) in 1888 by Henri Charles Ramos, hence the name of the drink, it surged as one of the most loved, and yet hated, drinks for bartenders all over the world. The secret relies on the shake: according to word of mouth, it took twelve minutes to reach the perfect Ramos Gin Fizz texture. Newspapers and stories of the early 1900s talk about a team of twenty shaking boys that Ramos hired to meet the demand, a goal very often hard to fulfil due to the drink's incredible success.
Though apparently messy and non-linear at first sight, this cocktail provides a delicious complexity thanks to the combination of its ingredients. Gin (Ramos himself would use the sweeter Old Tom) is shaken with lemon juice and sugar for a classic sour base that comes alive thanks to some heavy cream for thickness, egg white for a fluffy froth, and orange flower water for the final aromatic touch. The white fluffy cap that peeks out of the glass, once the Ramos Gin Fizz is properly poured, is the distinctive sign that would have made Henri Charles proud.
GRASSHOPPER
Omnipresent during the shiny Disco years, this glowing and sweet liquid treat was first invented at New Orleans' Tujague's, one of the oldest bars in town, opened in 1856 by Frenchman Guillaume Tujague. It was Philip Guichet though, who had bought the bar off Tujague, to allegedly mix the Grasshopper for the first time, coming second in a cocktail competition in 1919. Whether the story is true or not, the drink survived Prohibition, despite being invented the same year the Volstead Act came into power, and managed to become a firm favourite in more recent times. Tujague's is still the place to go for a taste of the original, with its nearly three hundred years old mirrors and wooden bar counter. The recipe is so simple, and yet so delicious: equal parts of creme de menthe, white creme de cacao and heavy cream, to be shaken into a luxurious creation with a buttery mouthfeel for a perfect after dinner nightcap. What's not to like?
HURRICANE
Fruity, strong, dangerously easy to drink. Created in 1940s at Pat O'Brien's, the Hurricane is named after its trademark glass that resembles the namesake lamp, and not after the uneasy weather New Orleans is struck by every year. Originally invented to use a surplus of rum the bar was experiencing, it packs a punch in the shape of a double dose of rum, shaken with passion fruit puree and lemon or orange juice. Active since 1945 (in a space that the namesake owner opened in 1933), Pat O'Brien's spans across many wide rooms, faithful to its 1930s atmosphere, with a large garden in the back. The Hurricane is the perfect sip to indulge in exotic flavours and escape the traditional New Orleans heat, but don't overdo it.
BRANDY MILK PUNCH
If a night of drinking in New Orleans leads you to need some pick-me-up in the morning, then this is the drink to go for. Though the original combination of milk and spirit dates back centuries, this specific version can be traced to the 1940's, and the address to ring is Brennan's. This Sunday brunch temple has been serving its recipe since then, and helped the concoction rise as a staple in the local drinking scene. Brandy Milk Punch, as the name pretty much tells, requires a healthy dose of brandy or cognac, a similar or bigger one of milk, and a tiny bit of vanilla sugar, to be shaken and served over ice. It's frothy, full bodied and comforting, enriched by a grate of nutmeg garnish. And remember, it's a Punch – don't shy away if it comes in a bowl for the whole party.
A LA LOUISIANE
A once forgotten recipe, this classic is now thankfully back on New Orleans' menus and beyond. Invented at the namesake La Louisiane restaurant, also known as De la Louisiane, this old school mix derives from its much better-established cousin, the Vieux Carrè. It calls for the same lively presence of Peychaud's Bitter and rye whiskey, which becomes the main protagonist due to the absence of cognac. Sweet vermouth and Benedictine play their roles, welcoming a moderate dose of absinthe. The result is a fresher, more pungent flavour compared to a Vieux Carrè's, but still, one to remember.
ROFFIGNAC
Count Louis Philippe Joseph de Roffignac served as mayor of New Orleans in the early 1800s, earning people's respect so much that a cocktail was named after him. Not very well known, yet soaked in legend, this refreshing and tasty recipe is said to be invented by the mayor himself, or perhaps dedicated to him after he showed courage and wisdom in administering the city. Simple in its ingredients, it's made by shaking cognac with a raspberry shrub. The mix is then filtered in a glass filled with ice and topped with club soda.
Carlo Carnevale