Constança Cordeiro talks ingredients, seasonality and the natural environment
The bartender owner of Toca de Raposa and UNI, Constança Cordeiro, explains how she found her love for making her own ingredients, and how future bartending generations can be inspired by taking the time to simply look around.
I remember perfectly the moment I realised what I wanted to invest my energy in. It was 2014 and I started taking part in cocktail competitions. I was focusing on executing recipes, finding the balance among many elements – but all I wanted to do was actually create the ingredients I used, not just mix them together. It was a key moment for me. Soon after that I joined Peg + Patriot under Matt Whiley's leadership who was already working in that direction – I can definitely credit him as my mentor.
I always wanted to be part of the hospitality business. I loved this world's fast pace from day one and I started working while I was attending hotel management courses at university in Portugal. I was 17, and I went on to become part of the Ritz-Carlton team in Sintra during my last year as a student. I really enjoyed it, but soon discovered it was lacking creativity: that's how I turned to the bar environment, where I could really express my ideas. I moved to London in 2013, tending at any kind of venue, from classic cocktail bars to more contemporary ones.
In the summer of 2013, I was working in a small pop-up whisky bar during weekends. It was a one-person shop, I had my own place, taking care of the flowers, curating my own menu, establishing a relationship with regular guests. That feeling stuck in me: I was starting to realise how strongly I wanted to have my own bar. It was only a matter of time before I went back to Matt and he told me I was ready to go on my own, so I flew back to Portugal. I intended to take a year off, as I was quite burnt out, but one month later I began working on my projects.
Solo mission
In the meantime, while I was still looking for a site for my bar, I was happy to host the best European bartenders in Portugal for a chance to take them on tour. It was my opportunity to show them the local flora, my homeland's natural heritage, and the first steps towards showcasing my philosophy the way I wanted. In 2018, finally, I opened my venue, Toca da Raposa. A seasonal bar, we focus on national produce, fruits, vegetables, and wild plants. Every drink is made of three to four ingredients, each and every one of which you can clearly distinguish when you take a sip. We put intense effort in employing the right technique to extract the flavour from each ingredient; our goal is not to flaunt the tools or the processes we use, but to be efficient, maximising the content of every element, and keeping it fresh for the longest time possible. It's the best way to respect our local ingredients, and really put them on display.
UNI is my newest adventure. Here, the ingredients are the absolute protagonists of the experience. Each drink is made of 10 to 15 ingredients, 80% of which are local and natural produce. I felt the need to do something new, I was searching for extra motivation and creativity, something that pushed me further. I realised it doesn't make sense to have ingredients shipped and supplied from far away – it's economically and environmentally unsustainable. I wanted to create something never seen before, but with local elements: using that many ingredients for each cocktail, we are able to orchestrate new flavours, using products we are already familiar with. It's all about the harmony, the aromas, the unification of flavours we create. It's exactly what I was looking for at the beginning, constructing something from scratch, staying true to my origins and my country.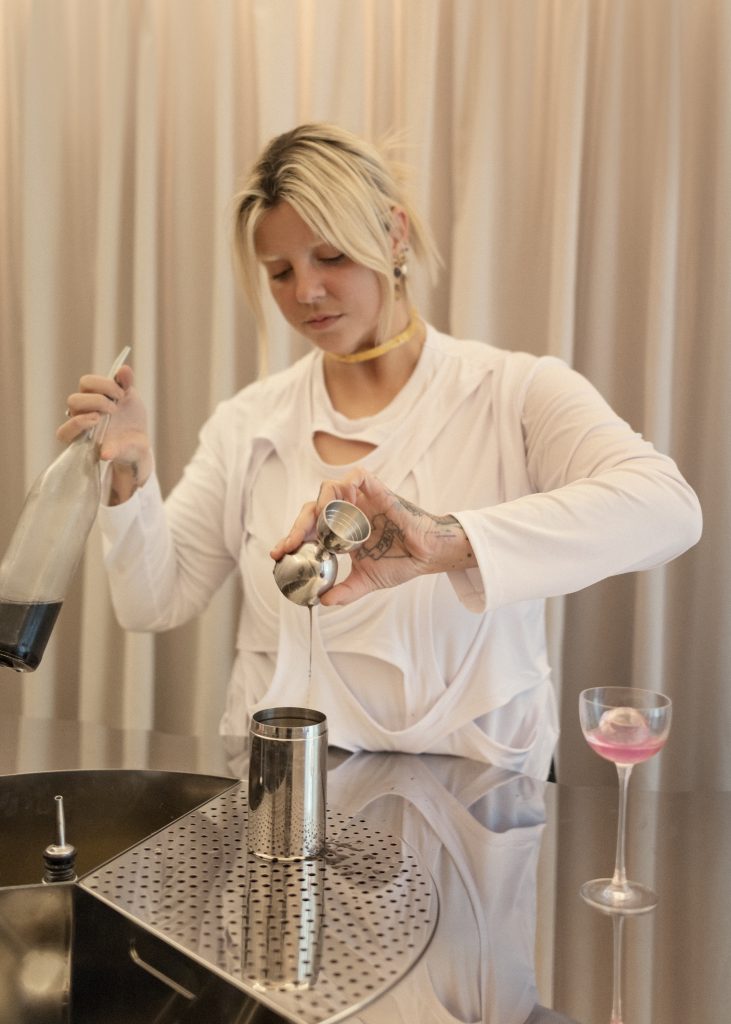 Changing the system
It's also one of the reasons why I joined the Wild Terrains project: a travel agency focused on women, for women. We are a variety of professionals, leading groups made of 10 up to 30 ladies, be they mother-and-daughter or solo travellers. We organise cooking classes, graffiti painting sessions, a whole range of artistic and inspiring activities: I usually take the groups to the forest for foraging, have a picnic and connect to the nature we are surrounded by. We then move to Toca, where they can make their own cocktails, learn about spirits, and get a taste of our liquid, modern culture.
The importance of local sourcing, celebrating flavours and mixing essentials but also creating delicious drinks is still something bartenders are not fully aware of. Most bar professionals are more interested in showing off their tools or techniques, and that can be deceiving to a guest, affecting the whole movement: they push for lecturing, not for educating. Being flashy is a hindrance to communication and awareness, for both drinkers and bartenders. Something is clearly changing, but the bar scene tends to go to the easy solutions, the ones that can impress but won't last long, instead of thinking more deeply. Working with local ingredients, maybe combining the ones that are apparently very far from each other, is just as impressive as using a complex instrument, but twice as helpful for our whole system.
The next step is education, on both sides of the bar. Guests should be aware of what we do, for them to eventually embrace our mentality and look for it again and again. The same applies for bar professionals: teams should be educated and trained to look around, because everything around us is living. You go to the beach, the forest, anywhere, your eyes always see something. If you train them to be alert, it becomes some sort of inspiration that grows in every direction – it spreads. Passion develops, bartenders can then educate colleagues, friends, guests: it becomes a network that sooner or later will take us to the next level.