Eli Martinez Bello: fighting for Mexican culture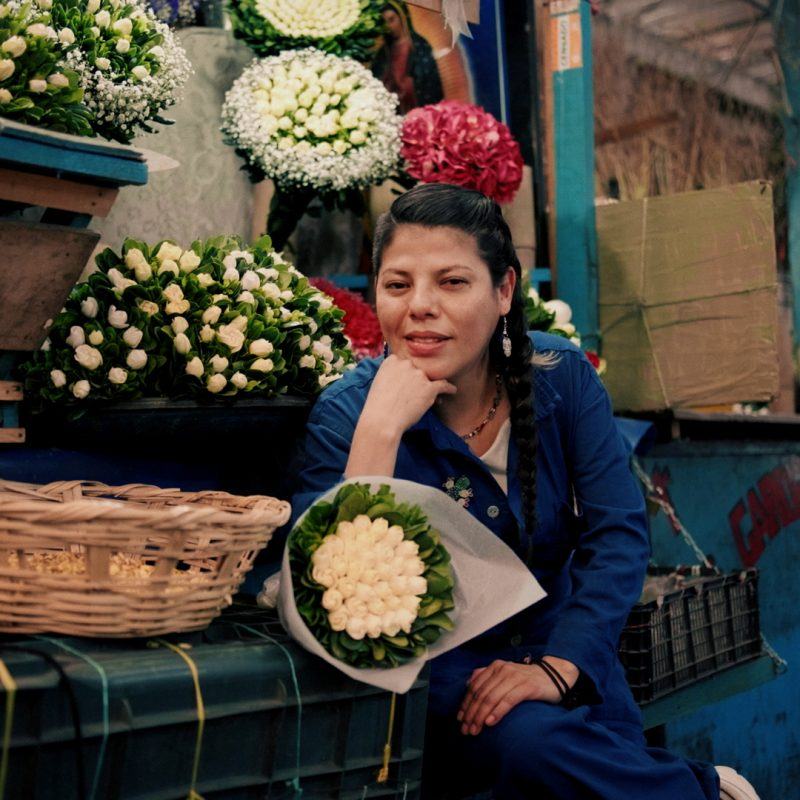 Forget anything the mainstream media ever told you about what a Mexican experience might be. Beneath a layer of dusty stereotypes and disinformation, you can find people striving to bring the real values of the country finally into the spotlight. Eli Martinez Bello is one of them: running the show at Tlecān Mezcaleria, in Mexico City, she is fiercely fighting to transmit what the true face of Mexico really is. Beginning with the basics: "I think it is necessary to eliminate the generalized image of Mexicans wearing hats, guaraches (sandals) and riding donkeys, as well as the idea that we live in shacks. Because we don't".
One of the main voices featured in Campari Academy's Perspectives, Eli focuses on channelling her native country's heritage purposefully through her hospitality. It's about showcasing local culture and history (a famously rich and complex one) through excellent service, and to do that, the personal journey took her in unexpected directions. "Mexican culture is so extensive and wide that, even for us, it is difficult to know everything about our cultural diversity. Working in the best restaurant in Mexico [Pujol] completely changed my vision of what being Mexican really means. Indeed, I myself broke the stereotype of service; I changed the old thought of servility, shifting to an honest channel of communication between the guest and the host. I made this possible by studying my own culture, because when I started doing so, I felt like a tourist in my own country".
Extensive research, travel and education led to great discoveries and, with time, progress; "I also understood that sometimes the simplest things to do are the most difficult ones. To take our drinks and our gastronomy to a minimalist level, in which the food and the beverages are the predominant factors, I myself have to appreciate the value of what we really own – our great culture and traditions. At the same time, I understood that I don't have to carry a molcajete (a stone mortar) when it comes to serving a 100% Mexican drink, and that our gastronomy is so important and so unique around the world that there are people willing to embark on 20-hour flights just to be able to enjoy a unique and delicious dinner in my country, and to have their first taco of their lives. The same thing happens with our native spirits such as Mezcal, Raicilla, Tuxca, Bacanora, Sotoles". Agave spirits have a remarkable popularity all around the world, especially in Central and Southern Europe, and they're clearly leading the way to a renewed interest in Mexican products.
The Mexican gastronomic scene is thriving at the moment, with restaurants like Pujol and Quintonil in Mexico City, Xokol in Guadalajara and Hartwood and Arca in Tulum all championing local food and heritage – and bars like Tlecān Mezcaleria and Licorería Limantour doing the same with drinks. "The hospitality industry in Mexico is unmatched" says Eli, "nowadays, people who are part of it are more and more interested in learning a lot about our roots in order to become ambassadors of the country, instead of just being service people. Mexico has caught the world's attention and, for the first time in centuries, it is more and more common to find the people of hospitality feeling very proud to be Mexicans".
And speaking of breaking barriers, the Mexican hospitality industry was for a long time dominated by an established macho culture that saw women almost banned from bars up until a few years ago. "Not long ago, being a woman was very difficult and, obviously, it was even more difficult for a woman to be behind a bar without being seen as a mere ornament. It took us a lot of work to make everyone (owners, waiters, bartenders, managers) understand that women's work is just as valuable as men's. Although it is true that we do not have the same physical abilities, we finally understood that teaming up is a plus, and that comparing or devaluing women subtracts from productivity".
"Currently, there is almost the same number of men and women working in different areas of the hospitality industry, such as the kitchen, the room and the bar. And at the same time, there is a balanced number in male and female guests. This is important to mention because for many centuries, the entrance to bars in Mexico was exclusively for men, and women were not allowed in. This movement has not only come from restaurants, but also from palenques (facilities where mezcal is made), and nowadays, it is great to see that there are many women in charge of mezcal projects". Eli and her peers represent in many ways the current, and more importantly, the future of Mexican hospitality. An industry, like Mexico itself, deeply established by centuries of heritage and traditions – but also emerging as a world leader in innovation and creativity.