Tales of the Cocktail – Day 3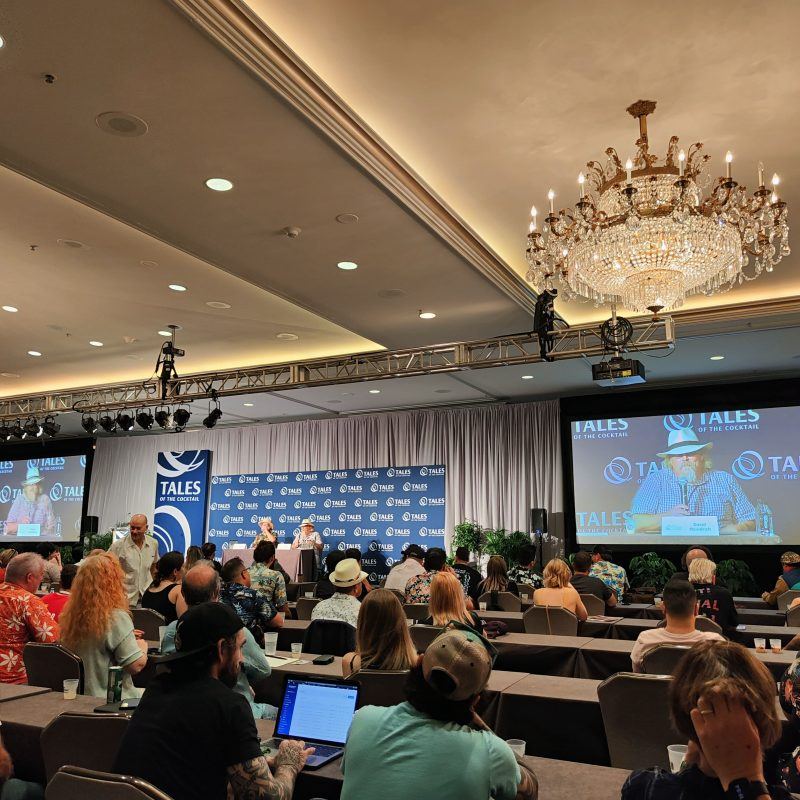 Iconic bar personalities, terrific music, some typical New Orleans rain and of course, delicious drinks – what a great day three it has been, at Tales of the Cocktail. While anticipation grew around Thursday's Spirited Awards ceremony, a remarkable afternoon of seminars and bar crawling happened, embracing the city's bustling pace and Tales of the Cocktail's drive for knowledge.
Legendary historian David Wondrich and Tiki godfather Jeff "BeachBum" Berry took the stage in the main room of the Ritz Carlton Hotel, headquarters of Tales of the Cocktail, to distil wisdom and entertainment into a brilliant seminar. Together, the two drinks icons reeled off the ten commandments of "Nixology": a list of rules of thumb that modern bartenders should follow, to master the art of mixing poor drinks. A cheeseburger-tasting Old Fashioned, a Bloody Mary and Eggnogg hybrid, terrible names and weird chunks of ice: this hour and a half long chat had the whole package of fun and deep, as a perfect example of sarcasm and research on which bar professionals should reply, to learn from mistakes and evolve.
At lunch time, Jared Brown and Anistatia Miller paid tribute to British mixology icon Dick Bradsell. Thanks to handwritten notes that Dick's widow handed them, the two world renowned writers and experts dug through the life, thoughts, ideas and recipes of one the most influential bar figures in history (a book about it is coming out soon). From managing costs to training staff, spreading out to drinks and bar tales, Bradsell's archive covered every aspect of a bartender's life, making this romantic and captivating seminar an experience to remember.
It would not be New Orleans without tropical showers and vibrating trumpets. Campari Group's Wild Turkey hosted Bourbon&Brass at Preservation Hall for an authentic taste of local action. Sipping on Boulevardiers all evening, guests enjoyed three sets of pure, easygoing, and heartwarming live jazz music from the resident quartet, accompanied by the gentle rhythm of the rain pouring. It was the perfect aperitivo before launching into the night.
And as always in New Orleans, the night had plenty to choose from to satisfy any mood. Did you want to go big? Bacardi filled up the Sugar Mill with energy and rum, celebrating Tales of the Cocktail's twentieth anniversary in perfect Big Easy style, whilst Monkey Shoulder hosted outdoor dancing and imbibing at the Central City BBQ. Were you looking for something smaller? You could have followed the flavour of Altos Tequila's up to a secluded address, filled to the brim with agave deliciousness, the private party crowd and, to everyone's delight, glitter make-up available on request.
But whichever you chose, or you'll choose on the upcoming nights, only one name should come to your mind when thinking about where to wrap things up: The Alibi on Iberville Street, the iconic dive bar where the very late magic happens. Tales of the Cocktail is about to reveal the Spirited Awards winners: make sure you don't miss it, here.
Carlo Carnevale