Athens Bar Show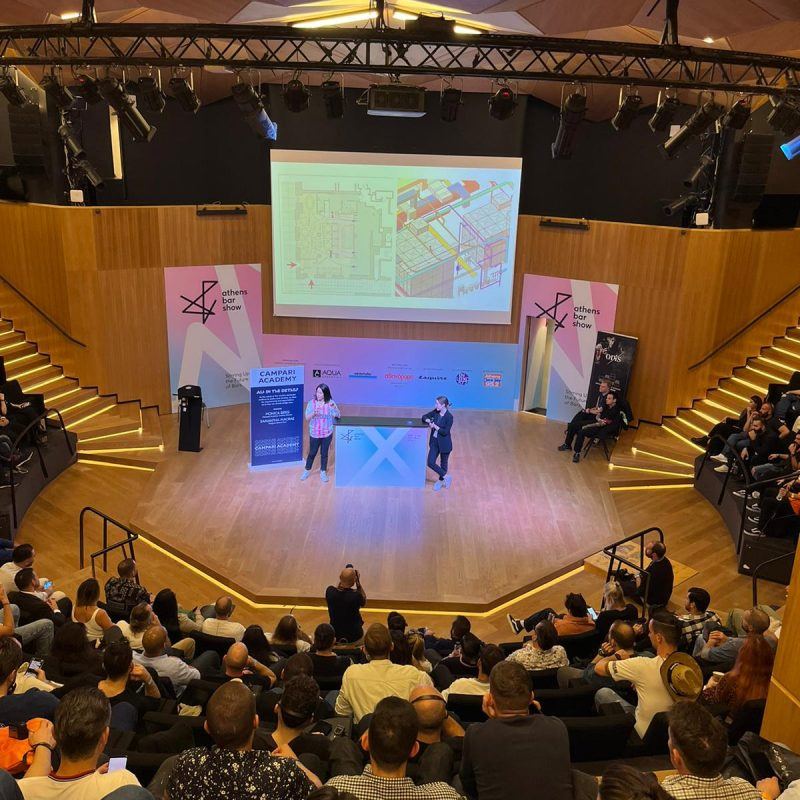 With sun shining bright over Technopolis, a former gas factory now one of the city's most vibrant cultural venues, the tenth edition of Athens Bar Show marked the end of the "bar show season": ABS continued to increase the number of visitors (12.000 this year) and proved once again to be one of Europe's largest and most appreciated events. Focusing primarily on education, it is arguably one of the most important ones too; an event that fuelled the rise of the city's bar scene, opening the doors for other great initiatives to celebrate the local beverage industry, such as Athens Rum & Whisky Show organized by Baba au Rum and Diffords' Guide Greece, and Aegean Cocktail and Spirits by Denny Kallivoka and Eleni Nikoloulia. Under the motto of Stirring up the future of bars, Athens Bar Show put on an extensive roster of talks, touching on everything from business, spirits, mentorship and classic mixology – to how to work with fermentation, why education is important and how to run a bar during war times.
On Tuesday, Campari Academy Creative Director Monica Berg and Behind Bars designer Samantha McRae took Stage D on a journey, outlining the process from planning to opening a bar: the exact order of the key activities, very often incorrectly pursued, marks a huge difference between success and failure. While many bartenders or entrepreneurs focus on designing first, before going on to build a space, scan the market and then eventually tailor a concept to fit the environment they have created, it really should be the opposite. The whole idea should be developed on paper as a first step, conceptualizing every aspect of it, deep into details; a successful and sustainable bar is made of many particular angles that need to be outlined, such as music and lightings, like Sydell's Vice President of Food&Beverage Leo Robitschek pointed out as seminar guest. Or a strong brand identity, a cornerstone for a satisfying bar business, that builds on social media presence, visual impact, and coherent communication, all discussed by Unseen's owner Milo Occhipinti. How tall should a bar stool be? How heavy can ice financially impact a bar, and what to do to protect the electric system of your space? Following the Perspectives docuseries footsteps, the crowd witnessed the path to ultimately get to open the bar of their dreams.
Campari Academy's Perspectives' latest episode, Design & Technology, was the centre of the attention during the Bar Show's two days: Campari Academy, now officially launched in Greece, welcomed visitors to its eye-catching booth, to try out the virtual reality system operated by the Oslo based design studio Behind Bars. This innovative design tool gives bartenders the opportunity to virtually inhabit the space they imagine, smoothing edges and adding particulars on the go, while testing their own bar. Two sample bars were showcased during the virtual experience: a classic setup, which carried the common, often non-functional features of a poorly designed environment; and a perfectly optimized one, where tools, hardware and anything a bartender might need is within reach, to minimize movement and maximise production and income. Wearing a VR headset, the user could enter a 1:1 scale model of a bars, where they can experience design changes and interact with the surroundings first hand. Whether it was a deeper ice well, a shorter station or a wider bar top, bartenders' desires come alive on the screen, for them to test what could become their workplace in the future.
Learning and growing as professionals and human beings are pivotal opportunities for bartenders, specially when it comes to dealing with the weeds of the industry, being it the long shifts or the creative effort, only to name a couple. Three of the most respected names in the business walked the main stage on Wednesday, to dive into what being a mentor and following one really take: award winning bartender and author Lauren Mote was joined by Monica Berg and Connaught's Bar Director of Mixology Ago Perrone, unveiling an acronym that said it all: Method, Ego, Necessity, Time, Optimization, Responsibility. As Monica Berg stated, "mentorship is not a one-size-fits-all matter"; the relationship between teacher and mentee is one to be nurtured with mutual respect, instinct ("trust your passion, find the ones who inspire you and follow them", as Perrone said), sacrifices and most importantly attitude to listen and empathize, from both sides of the equation.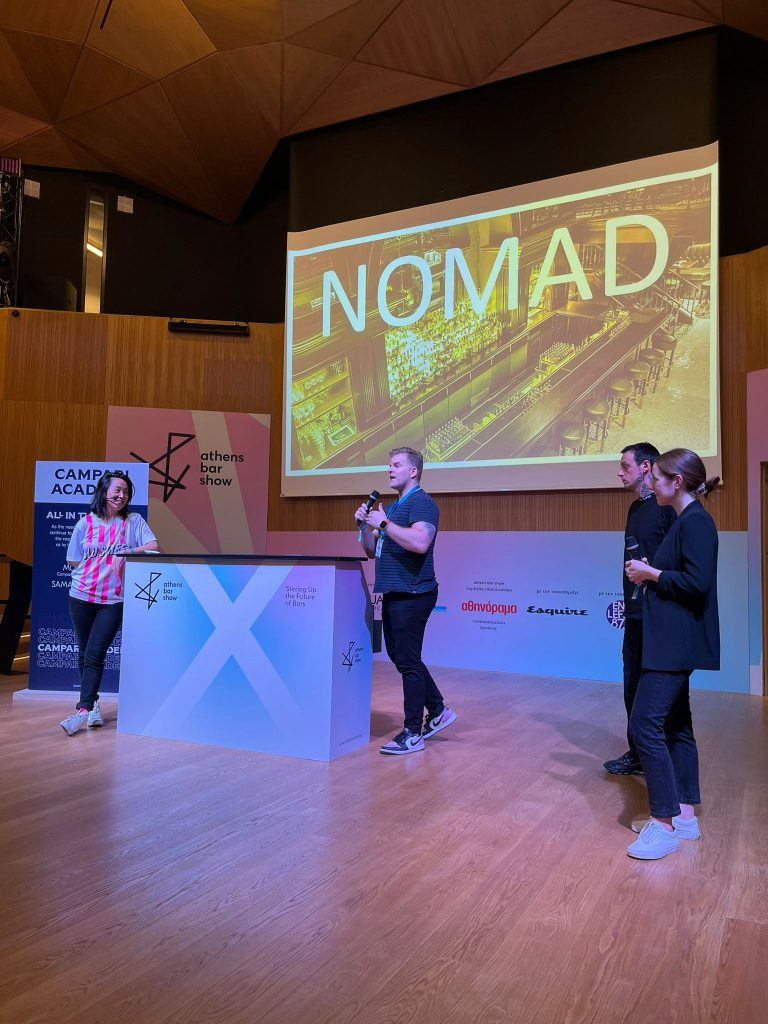 Speaking of acronyms, TAOS was amongst the most anticipated protagonists: The Art of Shaking, a project by acclaimed bartender Simone Caporale and Luca Missaglia, that focuses on creativity and inspiration. The two Italian characters underlined how art and mixology are strongly connected, pointing out how TAOS aims to build a bridge between bartenders over the world, connecting them through the lens of liquid masterpieces and creative minds. There was room for edutainment too, in the signature Ian Burrell style. With his trademark colourful and enticing speech, the Global Rum Ambassador brought a deep and curious question to the stage: when is a rum not a rum? Covering the sugarcane distillation in its whole essence Burrell explained, in his way, how all rum is made from sugarcane, but not all sugarcane spirits are rum.
To move forward and evolve, one must also look back and absorb what the past has to teach. Classic mixology played a big role at Athens Bar Show, thanks to seminars that focused on the importance of what happened before us. Legendary drinks historian David Wondrich focused on bar people instead, for a trip down memory lane that from the Gold Rush era in the United States landed all the way to Europe and One of the most iconic bars in the world. Wondrich, author of bestseller books such as Imbibe!, Punch: the delights (and dangers) of the flowing bowl and The Oxford Companion to Cocktails and spirits, set the beginning of his talk in the 1860s California, where former sailor Jerry Thomas had arrived after some tumultuous journey; he went on to become the most famous bartender of his era and probably of all time, breaking ground with his 1862 book How to Mix Drinks for others to follow. Case in point, Ciro Capozzi was Thomas' colleague, and from him learned tricks of the craft before starting a remarkable legacy in 1892: back in Europe, in Monaco, he founded the first Ciro's, establishing a link between American and old continent's cocktail bars. Capozzi sold his business in 1911 to an English group, that opened a number of Ciro's all across Europe; it was in one of those, in London, that Harry McElhone was employed after World War I, before moving to Paris and buying the legendary Harry's Bar in 1923, to these days still running and serving its signature Bloody Mary.
Highlighting the program on Day 2 was a stimulating conversation about one of the most controversial topics of the moment: celebrity agave spirits and their impact on the industry. With the ever-expanding interest in tequila and mezcal, celebrities and VIPs started launching their own brands, paying little attention to the environmental needs of agave (ten years are needed for the plant to properly develop, and two more for the soil to recover its properties after harvesting), while at the same time causing a cultural clash. Very often not respecting traditional production guidelines, these brands are inflating the agave spirits demand, though lowering the general quality, thus getting the consumers used to sub-par experience. Nikos Zisis, Gabriela Moncada, Romain Llobet, Stefano Francavilla, Jesse Estes, George Bagos, Roberto Artusio and Christian Bugiada led the journey in this talk from Mexico to the world's bar industry with a comparative tasting of five different varieties of product, focusing on the importance of understanding the whole supply chain, from farm to bottle, both as bartenders and as drinkers.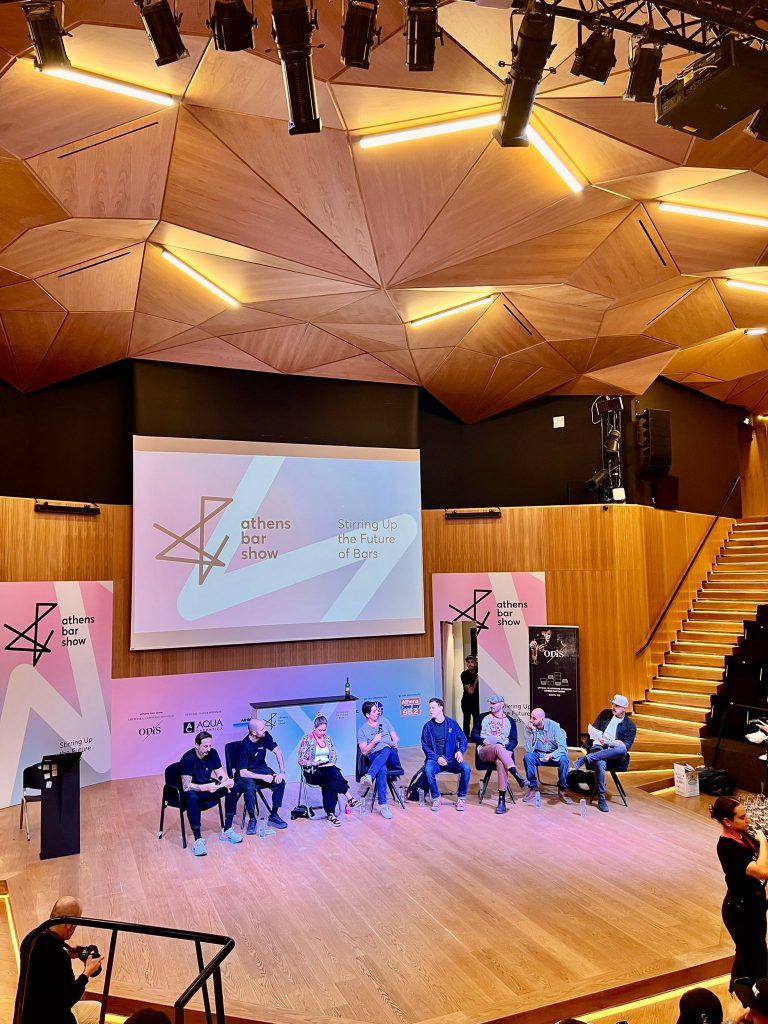 Athens Bar Show has always been equal parts education and nightlife, and this year was no different; it started on Monday with a bang and the (now) iconic Clumsies party Once upone a time in Athens – this year aptly named Legendary Bar and featuring industry titans Schumann's (Munich), Long Bar (Singapore), Jahreszeiten Bar (Munich), The Painter's Room (London) and La Trova (Miami). Over the next few days, the world's best bars took over the city as part of Athens Bar Week: guest shifts and take overs by internationally acclaimed bar teams such as Himkok, Candelaria, Red Frog, Lyaness, Paradiso and many others happened to merge with the local scene, both the established one – Baba Au Rum, Clumsies, Odori and A for Athens – and the newcomers such as Barro Negro, The Bar in front of the bar and The Line. Thirty-one international guest bars then gathered at Technopolis on Thursday, each serving their own creation to celebrate the Athens Bar Show closing party in spectacular fashion. Athens Bar Show, see you next year.