A Distillery With a Bar (or Vice Versa): How Himkok Changed The Bar World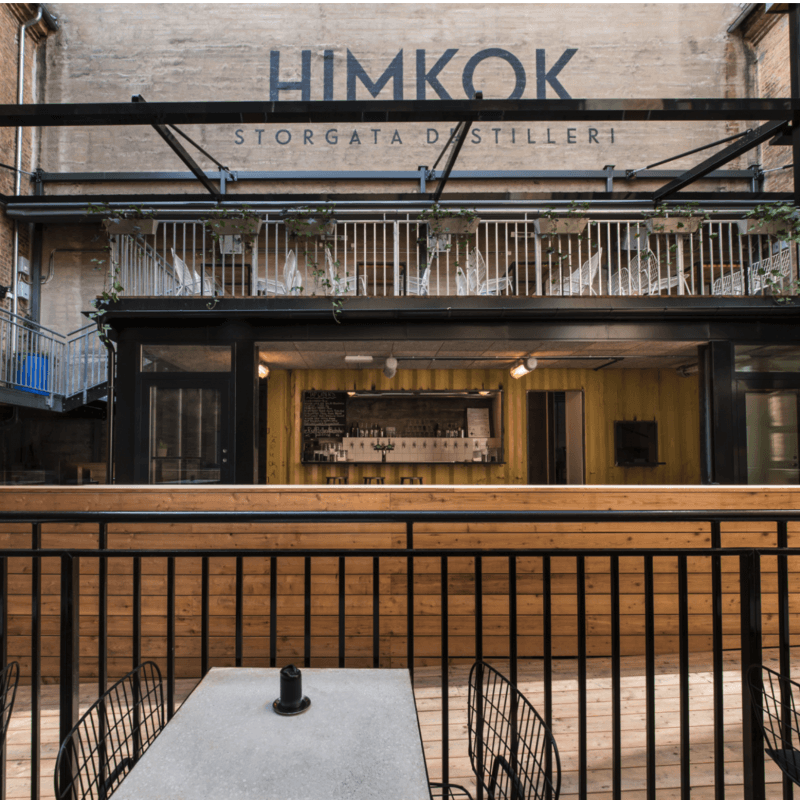 It had been headquarters for a variety of businesses, throughout almost two hundred years: tailors, shoemakers, even priests passed by this 1826 building in central Oslo. It was abandoned, on the verge of being demolished and then saved: luckily, because it proved to be the perfect fit for Erk Potur's revolutionary idea. It's easily missed from outside, but once you spot the iconic snake, revolving around a white H, you'll know you are in the right place. It's where Himok opens his doors.
Opened in 2015, it's the world's first distillery bar (Himkok means moonshine in Norwegian), recently ranked as 43rd in the World's 50 Best Bars (was 17th in 2019), and the mark of a journey that talks about design, territory and foresight. As often is the case, it all began with an unexpected sparkle: "I had started a brewery pub in Oslo, in 2012: it was my focus at the time", Erk says. "When we decided to turn to production brewery, we flew all the way to Denver, Colorado, to attend the Great American Beer Festival, the largest convention on the topic. We saw that many craft distilleries were already operating there, and my attention turned to that". The epiphany led to a tour of the US distillery scene, visiting up to a dozen producers, until the encounter with fellow Norwegian Christian Krogstad, master distiller and co-founder of a huge selling gin brand. "We spent some time together; he shared his passion for aquavit. The more I listened to it, the more excited I got, until I found out they had a tasting room, but not an actual bar in their distillery. That gave me the idea".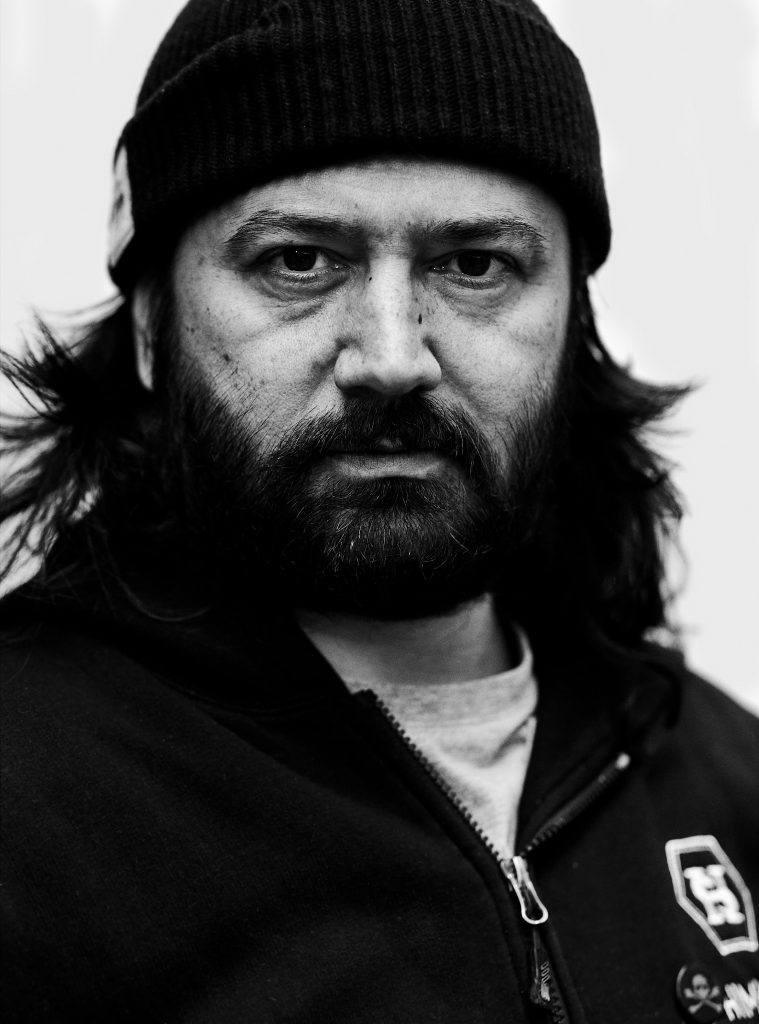 Once back home, reality hit hard: "Norway is quite restrictive when it comes to alcohol and regulations. We went through many departments to get a specific licence that allowed us to produce and serve alcoholic beverages in the same building. But it was such a new concept, that no one really knew what to tell us, we couldn't get any answer; specifically, no negative answer, which equaled a green light". This innovative idea combined with the country's heritage, that sees Norway as "not a cocktail country, more into rock music and beer", was already presenting some hard hurdles to jump. But it was just the beginning: "The real misery started when we saw the condition of the building. We found broken supporting beams, the building was collapsing; and the landlord did not care about that, I was actually threatened to be bankrupted if I could not pay the mortgage, which would now skyrocket due to added reparation costs. So, we decided to do everything by ourselves and work on it, to cut costs. Once we allocated the whole budget to restore the beams, we still had two thousand square metres to work with. But we pushed, found some investment, and finally agreed to share the work with the landlord: they ended up believing I could pay in the long run". A good call.
Being a protected building, Erk and his team had to be extra attentive and careful when designing the space: "It was us that had to adapt to the building, and not the opposite. We could not go for anything dimensionally brutal and respect the place in its essence. The distillery equipment is made of copper, for example, because we already had found some around the building. Every detail and addition fit the colour of the walls as they were, we tailored the right elements, so that the space and vibe stayed true. And, actually, we did not change that much". You add this to the heavy taxation Norwegian alcohol businesses have to face, and a bureaucratic web easy to get entangled in (Norway is a dark market where it's illegal to advertise alcohol under all circumstances), and the difficulties just keep piling up. But they were overcome.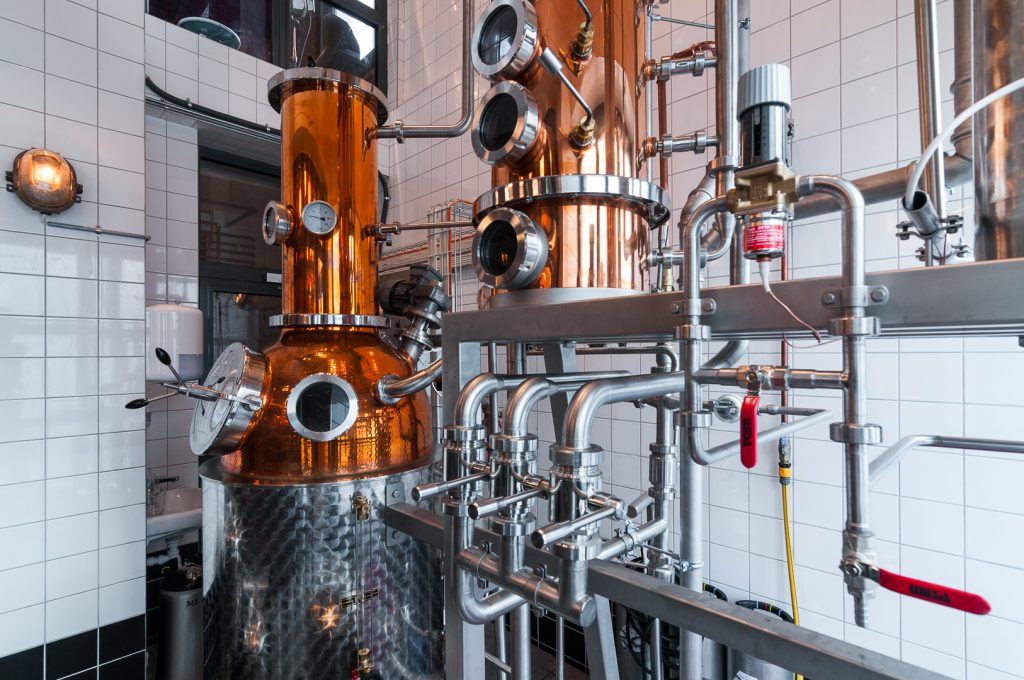 Himkok is today a multiverse of tasting experiences, designed to meet different moods, desires and attitudes. The main entrance leads directly to a classic cocktail bar with the distillery that produces almost everything that is served and can house up to one hundred guests; "We wanted to start something that could be real, authentic, sustainable: we produce everything from our distillery, we are completely independent, and this helped give our guests that craft feeling they loved already. That's why we established a cider garden, right in the back of the bar: not only do we provide a product people are familiar with, but we also do it our way". Which means fighting any artificial product and bringing cider back to what it is supposed to be: natural, not extremely sugary, and most importantly made from the world-renowned Norwegian apples; thus creating a virtuous circle that links craftsmanship, tradition and farm to glass philosophy.
This passionate and visionary approach did not leave efficiency and profitability behind. The well oiled machine that is Himkok is designed to smoothly overcome both experimental and practical challenges and goals. It is also one of the reasons behind the construction of a taptail bar on the second floor of the Nineteenth Century building: "Upstairs we can host up to 250 people, seated and standing. We outlined a space that allows us to perfectly accommodate large crowds, without losing quality and pioneering a new way of serving drinks". At the time, cocktails on tap were not that common, and Himkok broke ground with a superb selection that proved to be essential to the business: "The taptail bar guarantees speed, quality, quantity, keeping consistency with the cocktail bar downstairs, but in a different mood. Two spaces designed differently but for a sole purpose: upstairs is chiller, with a more dive feel to it and often a DJ playing; the main bar has a more exclusive, refined touch. So we have an area that pays the bills with volume, and another one that offers sophistication and a high profile environment, everything financially sustainable".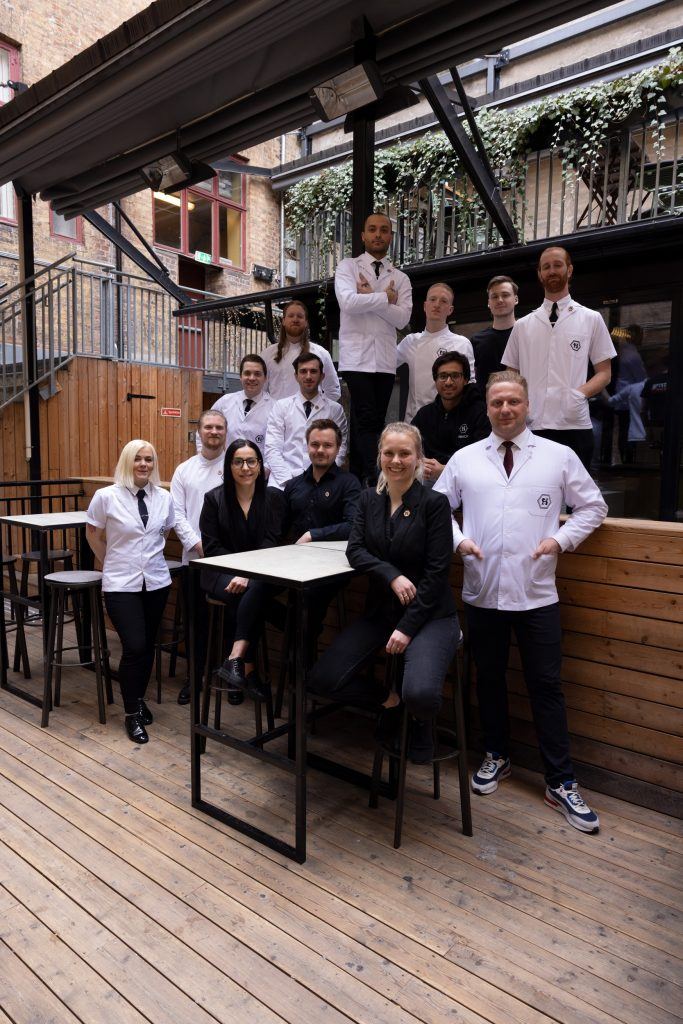 Distilling, bottling, mixing. Running the show is Slovakian born bar manager Maroš Dzurus, whose eyes glow when asked about the opportunity to work this close to a production site: "It's a bartender's dream came true, under many aspects. First, it would take years to create a spirit from scratch if we had to ask an external company. But most importantly, the daily exchange with a master distiller literally expands your mind and has unlimited potential; clearly, you must take into account the economic side of production, selecting raw materials and keeping an eye on the overall cost. But the opportunity to customise cocktails with a particular spirit or product we create ourselves is priceless and allows us to keep our work and our land closely connected".
A perfect example of this is the collaboration between Maroš, Himkok distiller Anika Perisic, and head of fermentation project Ida Marie Berge, to pour his memories and feelings in a glass: "I took inspiration from Norwegian cabin or hytte. A big part of Norwegian culture, where families escape to get back in touch with nature and serenity. I chose products you can find around these cabins or in the forests, such as wild raspberries and beetroot, and we used them to create a fermented water kefir, as fermentation plays a big role in Norwegian food culture". This then combines with homemade honey mead, as "honey is a typical Scandinavian flavour as well as being a base for some of the first alcohol beverages that was ever produced", and aquavit, Norway's national spirit. Stirred over ice, served neat in a stemless wine glass, garnished with sesame crispbread: simple, authentic, entirely produced by the team. Doesn't get any more Himkok than this.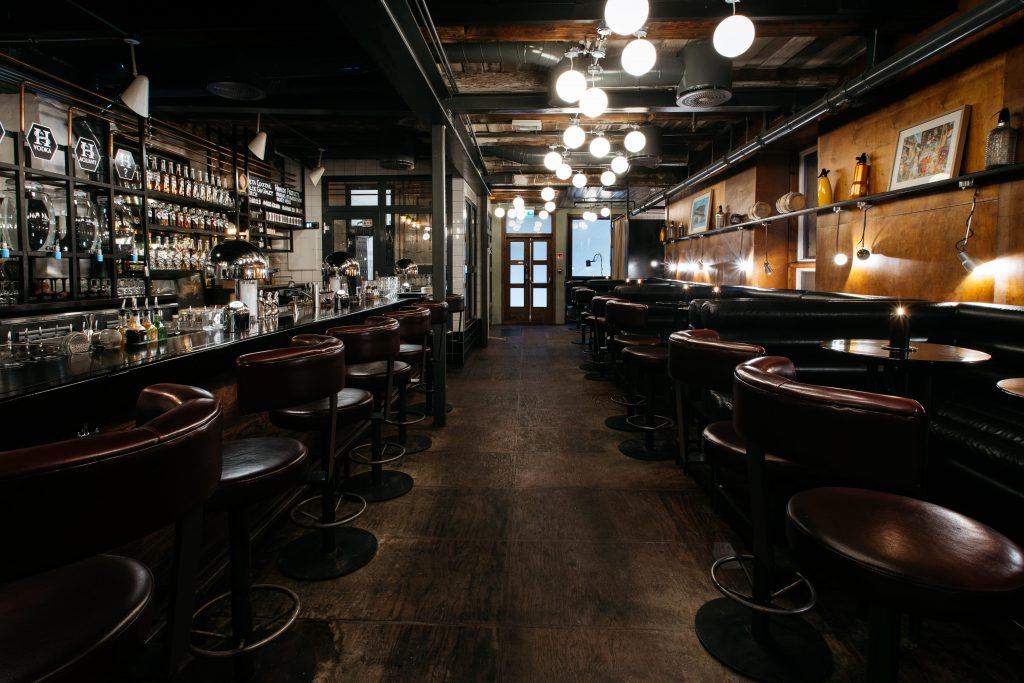 Sure, it took a while for the market to get used to a concept never seen before: "The first couple of years it took a lot of effort to introduce guests to these new ideas. Before it was wine, beer, maybe some Old Fashioneds, then we came into play and turned it into a Michelin star kind of vibe. But the crowd always goes through a natural selection, and they finally realised that they could actually help us, tasting our products, giving us feedback. It's like they can contribute to our success, and it's one of the keys to a valuable community". Visual design choices also helped: the bar at Himkok showcases no brand or distraction element, to somehow create an immediate dialogue between guest and bartender: "Sometimes people feel uncomfortable or are driven by brands being exhibited behind the bartender's back. Having no labels means we remove any discomfort and allow you to connect with the bartender, so he can understand you and provide you with exactly what you want".
It is a great example of the natural connection between a place and the space, the team that runs it and the guests that visits – all parts of the same dream; a dream that is becoming more apparent to the rest of the hospitality (and wider) world. "Professionals in our industry are understanding that not everything can be imported, you have to use what you have around, and the last couple of years enhanced this idea", Erk continues. "That's what Himkok is built on, but you also have to be aware: you have to know your people, the place you are in, you have to fully understand the local scene before designing something that can perfectly adhere to it, without shocking it". It seemed an impossible task at the time, but the present days tell a different story, about a sustainable environment for a luxury business, a contemporary approach to distillery, a circle of culture from guest to bartender to distiller. Could Himkok live anywhere else? "I guess so, with this size, operation and ideas, it could. But to make an actual impact, as we did, it has to be connected with local culture and local flavour. It has to blend in the place it's in, as something that is meant to be there".