Discover Wild Turkey, the bourbon from Wild Turkey Hill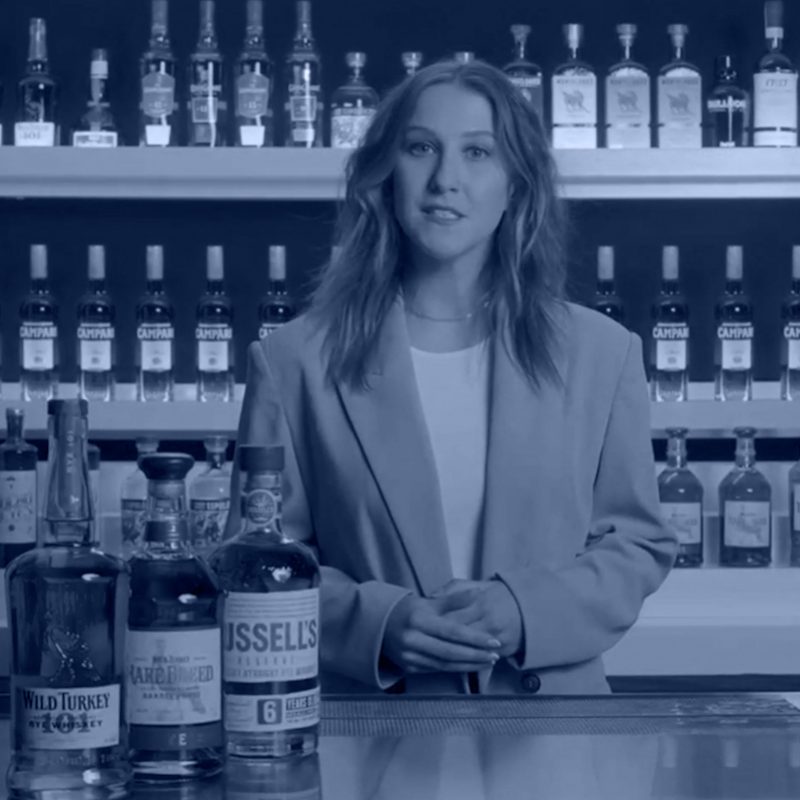 History
The Wild Turkey brand has been around for 80 years – and has now become one of the 'legacy' Bourbon distilleries of Kentucky. Bourbon has been made on The Wild Turkey Hill since the 1860s – but for the better part of the last seven decades – the distillery has been run by the Russell Family. Jimmy Russell began his journey with Wild Turkey back in 1954 – and remains one of the brand's Master Distillers. Jimmy himself is the reason Wild Turkey has retained a traditional style of bourbon – utilising practices dating back to before prohibition. His son, Eddie Russell, started back in 1981 – and in 2015 – he became co-master distiller with his father. Today – Jimmy and Eddie stay true to their values – and traditional methods – by continuing to craft an incredible portfolio of Bourbon and Rye whiskies up on Wild Turkey Hill.
Production
Wild Turkey focuses on traditional methods to produce their whiskies. They are a one-distillery operation – which means that every drop of Wild Turkey around the world comes from the same place. Its production starts with non-GMO corn, rye and barley cooked together with Kentucky limestone water – and then fermented with Wild Turkey's proprietary yeast strain. After fermentation, the liquid travels over to the stills for distillation. Uniquely – Wild Turkey distill and barrel their whiskies at a lower proof than the legal maximum, to add less water and retain more flavour. From there – the resultant spirit is left to mature in char American white oak barrels. This is where Wild Turkey gets its sweet and spicy flavour – as well as its deep auburn colour. Batch size, barrel selection, age and bottle-proof are some of the ways Wild Turkey create their different expressions – – though ultimately, it all comes down to the expert palate and years of experience that master distillers Jimmy and Eddie Russell bring to every bottle.
Portfolio & Tasting Notes
Wild Turkey's portfolio showcases a range of different expressions
Wild Turkey Straight Bourbon is 81 proof and aged at least 5 years. It has a distinct sweetness, with notes of vanilla, pear and sweet oak.
Wild Turkey 101 Bourbon is aged 6 to 8 years and at 101 proof – offering a richer flavour and spice. Caramel, cinnamon and notes of orange peel linger on the palate long after you take a sip.
Wild Turkey 101 Rye is aged at least 5 years and is a great example of a balanced rye whiskey. It's flavour has plenty of herbal rye spice followed by sweetness on the finish.
Rare Breed Bourbon was one of the first barrel proof bourbons on the market and is bottled at 116.8 proof. It combines 6, 8 and 12-year-old barrels of bourbon to create a unique and robust flavour profile.
Rare Breed Rye is also barrel proof and delivers tons of flavour. It combines 4, 6, and 8-year-old rye barrels. At 112.2 proof it has great baking spice and notes of pepper.
Finally – Kentucky Spirit Single Barrel Bourbon is bottled one barrel at a time. The barrels are selected after ageing at least 8-years – and are bottled at 101 proof. Each barrel is unique, but you can expect notes of toffee, almond and berries So explore with Wild Turkey's portfolio behind your bar, and enjoy!
Key Message on the Product
The Wild Turkey distillery has a long, rich history – and the brand's father-son master distiller duo have been working in the bourbon business for over 100 years combined. They use all non-GMO corn, rye, and barley malt in their two mash bills – which make up all bourbons and ryes, respectively. They also use a proprietary yeast strain – and after fermentation – distill and barrel the whiskies at a lower proof than the legal maximum to retain more flavour and add less water. No. 4 char barrels give the whiskies extra depth of flavour and that deep auburn colour. Despite the economic pressure bourbon makers faced for several decades, when the spirit was not as popular as it once was, or is today – the Russell's have never edited or compromised their process – or their recipe – remaining true to their values and traditional practices.
Hero Cocktail: Bold Fashioned
The BOLD Fashioned is what you get when you take the timeless OldFashioned cocktail and make it with the classic BOLD flavour of Wild Turkey 101 bourbon. Start with…
2 dashes of Aromatic bitters.
Then add ¼ part simple syrup.
Followed by 2 parts of the classic BOLD Wild Turkey 101 bourbon.
Now you are ready to add your ice.
Use good quality ice so your BOLD Fashioned stays nice and cold. • Lastly, express the oils and garnish with an orange peel. Cheers!