Asian Flavors Go Mainstream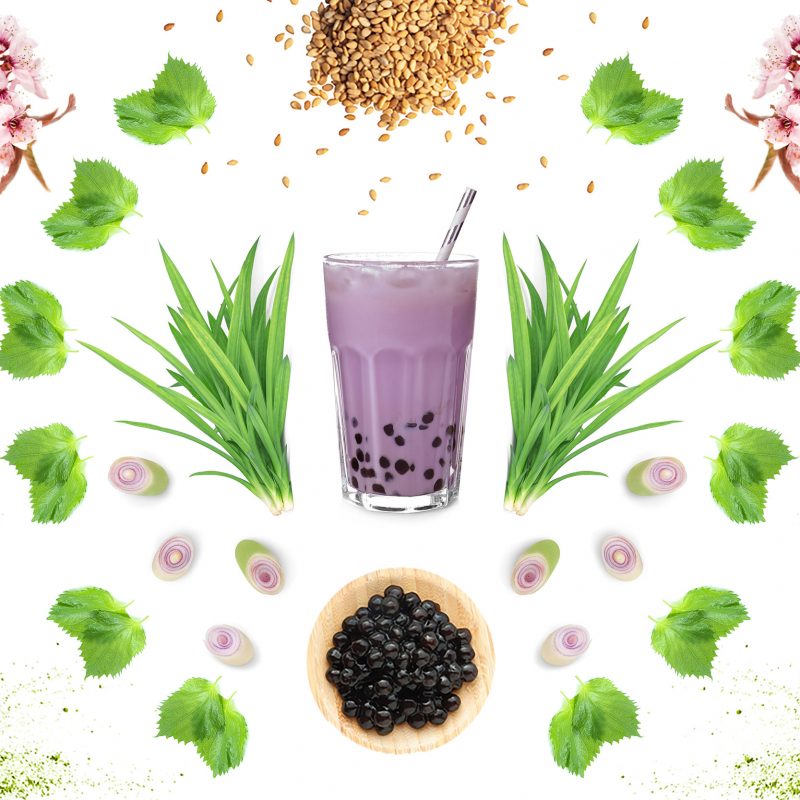 Ingredients like Pandan and Ube are popping up on cocktail menus around the country. Are they being used correctly?
The seemingly sudden boom in Asian ingredients and flavors appearing in cocktails sometimes brings out mixed emotions in Asian-Americans. "It's been this bittersweet movement, because I think, for a lot of Asian-Americans, and for people of color in general, we often grasp at any kind of representation," Campari's Mary Palac says. "Initially, we're excited to see things and flavors that we grew up with, out in the wild and people enjoying them. But there's also this little twinge of a reminder that it wasn't always like that." Palac, who was born in the Philippines before moving to America, adds, "We all know that that feeling is, of bringing the weird food to lunch at school or getting teased for how your house might smell. So there's both this feeling of pride at seeing your culture becoming mainstream but almost this wariness and protectiveness of it."
There's several ingredients that Palac sees crossing into mainstream culture. Among them: ube, pandan, yuzu, sesame, boba and MSG. "We are seeing ube-flavored drinks in chain stores now and different foods flavored with ube. It's a very near and dear ingredient to my childhood. Every party growing up had some kind of ube dessert." She adds, "MSG is a really interesting one. That's the true embodiment of this bittersweet journey of a really problematic connotation surrounding Asian food and MSG, which was based on flawed research. Now people are realizing that it's not as harmful as previously thought."
Thirsty for a deeper dive into the ingredient histories and questions around representation? Watch Mary's conversation with bartenders Darwin Pornel and Christian "Suzu" Suzuki-Orellana here.
Read on for Mary's list of bartenders she cites as inspirations in making cocktails with Asian flair.
"I've gotten to see their pop-up a few times all over the country. They really do such an excellent job of treating Asian ingredients with this equal sense of respect and whimsy. They tie into both modern Asian culture with Hello Kitty references, but when you taste their drinks they are familiar flavors that you grew up with. They had this warm tea drink that used mochi. They made their own mochi for it. They made a sealed boba drink, coffee flavored boba."
Daijoubu Cocoa Flavored Boba
Recipe by Sharon Yeung
2 Q Boba Pearls
2.5 Q Brown Sugar Syrup (1:1)
2 C Creme de Cacao
Prepare 2 quarts of Boba Pearls according to package directions.
Combine Boba in an 8 qt Crock Pot or slow cooker with 2.5 Quarts 1:1 brown sugar syrup.
Add 2 cups of Creme de Cacao (or any spirit of your choice)
Marinate on low for at least 20 minutes.
Pornel, of New York's "pop-up 4-Wheel Tricycle, makes amazing cocktails that are reminiscent of my childhood as a Filipino-American. He works with things like Ube, Banana, and so many wonderful tropical flavors. Their cocktail using pandan is rich and plays on the vanilla notes of the homemade pandan syrup, which reminds me of so many desserts from when I was a kid, and pairs those notes with coffee and aged spirits."
Pandan Syrup
Recipe by Darwin Pornel
1000ml water
100g fresh Pandan leaf, chopped
~1000g white sugar
Pandan Extract
Pinch of Salt
Blend water and fresh Pandan leaf thoroughly, strain. Add sugar and stir until dissolved. Adjust to 50 brix.
For every 1L of yield, add 6 drops of Pandan extract and a pinch of salt.
Store in the refrigerator in a non-reactive container for 2-3 weeks.
"For a very long time he's represented his Japanese heritage through his pop-ups. He's incredibly creative and passion driven, so it's always a pleasure to see what kinds of drinks he comes up with. Sesame and yuzu are two flavors that I associate with him for sure. Yuzu because it rhymes with Suzu and he's also known as the Sesame Papi because he puts a little bit of sesame in his cocktails."
Neri Goma Syrup
Created by Christian "Suzu" Suzuki-Orellana
1 part black sesame seeds
1 part honey
3/4 part water
Toast the sesame seeds until they are nice and aromatic, making sure not to burn them. The seeds will continue to cook when off heat so it's important to place them into the water that will be used for the syrup immediately. Add water and honey in a pot and bring to a boil. Strain out the sesame seeds.
Store in the refrigerator in a non-reactive container for 2-3 weeks.
Bonus: You can use the sesame seeds for garnish or to snack on.
"Not only has she written a [James Beard-award winning] book about Japanese cocktails, I've long admired her. She's doing amazing things, particularly with Japanese spirits, like shochu. She brings such artistry and elegance to her craft. Getting to see her make cocktails in person, she has such grace in it. There's a passion for her craft, in both the creativity of the cocktails and the execution of them."
"When you enter his venue, you're greeted with fun. It's the energy that Masa brings. I think of shiso and really fragrant flavors like cherry blossoms. He has a Paloma cocktail that uses Thai chili. He does a great job of blending Asian ingredients and making them fun, making them approachable in cocktails but still really interesting."
Thirsty for more? Mary moderated a conversation with Suzu and Darwin Pornel around these topics and so much more: You can watch it here.