WEDDING BARTENDING 101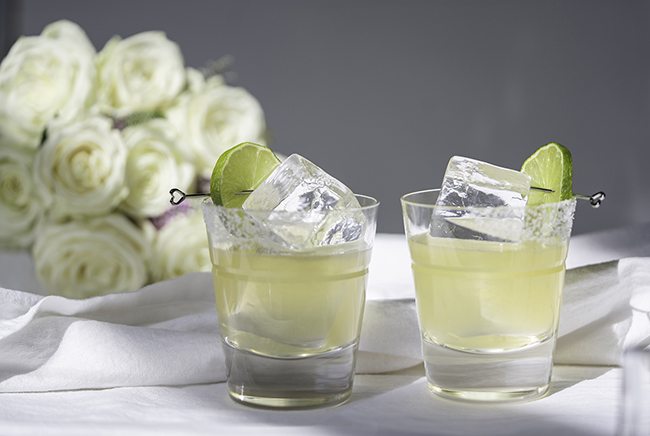 At long last, here come the brides and grooms.
As the return-to-normalcy post-lockdown trends gain steam, it looks like spring and summer 2022 will host many long-overdue weddings. This wedding season marks a return to form, with out-of-town guests, full venues, and stylish gatherings. For the bartending community, that translates into a need for signature cocktails that please many yet are easy to serve in a short amount of time.
Creating a signature drink menu for a couple is similar to asking patrons about a Bartender's Choice style of drink. Spirit forward? Citrusy and shaken? Herbaceous? "I ask if they have a color scheme," Celeste Dittamo, founder of New Jersey's Whistle and Tins, says. "When we talk to an event coordinator, we ask if there is a mood board. That gives me inspiration of how the cocktails are going to look, if the garnish is going to be chic or more clean."
Katie Blandin, owner of California-based Bar Cart Cocktail Company, asks about the wedding flowers, if there are herbs that are special for the couple, and if there are flowers that grow on the venue's property. "Couples don't always think about it, but those details are important to me," Blandin says.
In general, wedding experts say that seasonal riffs on classics, from Margaritas to Negronis to Old Fashioneds, are best suited to receptions. A wedding isn't the place for complex multiple-ingredient drinks or a challenging palate that plays to only niche customers. "I'm always talking about coming up with slam-dunk cocktails that guests just want to drink all night," Dan Scott, owner of California-based mobile bar The Whaling Club, says. "We've been doing this for nine years, and some of our cocktails have been around since we started. Even if I may get bored of a drink, I always remind myself that for many of the people coming to us, this is really interesting to them."
Once the recipes are decided upon, serving three signature drinks, not two, seems to be typical for most weddings. "[Three drinks] is the sweet spot to have enough options for flavor profiles and base spirits for a wide range of guests," Scott says. Offering three drinks, including a zero-proof option, allows for variety in glassware, ice styles and presentation.
Is a wedding, with its rush of 100 or more people hitting the bar at once, like working in a high-volume bar or is it more like a corporate event? A little bit of both, wedding experts say. Pulling off a successful wedding requires meticulous planning and a lot of batching. Everything that can be prepped ahead of time, including skewering and cutting garnishes, is finished before a single guest arrives.
"We always batch our signature cocktails," Dittamo says. "I do all of the juicing, all of the bitters, all of the syrups before we end up on site." Her team will pre-dilute cocktail mixers (sans alcohol) ahead of time, and then do a quick shake, once the spirit is added, during the staging part. "We can pour it, make it beautiful, add some garnish and go."
"There's a fine line because people want to see an element of bartending and showmanship, putting things in tins, shaking with ice, using proper tools, but they also want drinks to come out as quickly as possible," Scott says. Batching mixers ahead of time means simplifying drinks dramatically. "While [our Margarita is] a four-ingredient cocktail, it's only a two touch pick-up."
As with everything wedding-related, timing is everything. "We know, based on the timeline of the event coordinator, when the ceremony should end," Celeste Dittamo adds. "It takes 15, 20 minutes or so for everyone to come out. I have those signature drinks ready, cups iced already for vodka sodas, things like that. Not a crazy amount, but we're prepared."
There is one main difference between working at a high-volume bar and a wedding: the guests. "Guests at weddings are so much fun," Katie Blandin says. "At a bar, it could be anyone walking in, having any type of day. Even with the high volume push in cocktail hour, people are happy and in a celebratory mood."