Why? Why Campari Academy and why now?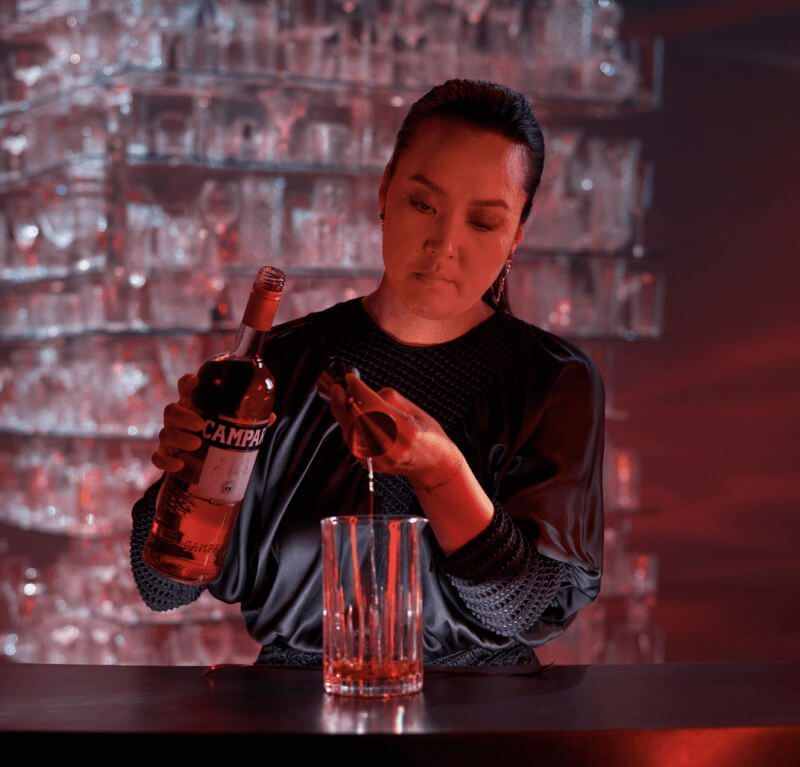 Industry leader and co-owner of Tayēr + Elementary, Monica Berg joins Campari Academy as the Creative Director and leader of the Campari Academy Lab – a group of experts from different industries coming together to share thought provoking conversations impacting the bar industry. Discover how Monica started out and why she decided to be part of Campari Academy.
"I have always loved learning new things, and from a very young age I realised that happiness to me is directly linked to the opportunity of learning. It's my engine that keeps me pushing forward – the one thing I cannot live without – and at the times of my career where it's not been present, it's something that I've greatly missed.
As a young bartender, I struggled quite a lot to fit in, because I always found myself chasing information- and specifically – answers to questions no one else seemed to ask. I grew up in a home where the connection to agriculture was firmly established and celebrated, and I spent my weekends foraging, harvesting, preserving – you name it – according to the season. It was only later in life that I realised this was not the norm, and that most kids don't make fruit wines at the age of 10 or keep sourdough starters in their bedroom or learn how to skin an elk at 12. Ironically, when I came to the point in my life when I wanted to learn more about these things professionally (maybe not the elk part) – there was very little to be found, if anything, so I went searching.
Within the first 5 years of my bartending career, I pretty much covered it all; dive bars, pubs, nightclubs, various types of bars and restaurants – only to eventually end up in a cocktail bar. Against the advice of most, I rarely spent even a full year in each place, because once I'd learned what I came for, my restlessness kicked in, and I was off to the next one.
I would roam all the biggest book shops in Oslo, and devour any kind of drinks related material I could find – when I could find it.
Eventually, I would also discover the online forums and chatrooms dedicated to drinks, and slowly but steadily, my world expanded. I started dreaming about attending bar shows, to visit cities like London and New York – and it was actually on my first visit to the latter, that I had my first real bartending "aha" moment back in 2011.
I was sat at the bar in Death & Co – with the sickest line up of bartenders; Joaquín Simó, Thomas Waughn and Jessica Gonzalez – and it suddenly struck me "WOW, I do what they do!". Obviously at a different scale and level, but at the end of the day, I bartend and tend bar – just like them. It sounds so silly, but it was such an important moment for me, because it made me understand that due to the human nature of what we do, some things cannot be taught by reading a book – they can only be lived and shared.
They say knowledge is power, and it most certainly is, but it is also potential or the lack thereof. It represents both what our industry will look like if we don't act now, continuing to complain about the lack of qualified talent whilst turning a blind eye to the outsourcing of education which relies only on brands and agencies, OR we can reach that potential if we act now. It is very easy to point fingers and criticize, but in my experience, real change only happens from within, and for that, we need to show up and be willing to work together.
I've always firmly believed it needs to be ourselves who decide our own future, because after all, we are the only ones who know what we need and want – despite those two things not always aligning. The challenge is despite knowledge being free and readily available, we also have to deliver it in a manageable format which is both interesting and engaging – because learning can be fun, however, I think we can all agree that it can also not be.
At this stage in my professional life, I know I don't have all the answers – nor do I need to have them – but selfishly speaking, there is nothing that makes me happier than seeing the impact of knowledge and education, and witnessing the confidence it can give someone who is just starting to understand the full potential of themselves. The importance of having someone believe in you – more than you do yourself – is priceless, and something I wish everyone gets to experience at least once. Personally, I've been very fortunate to have individuals guide me through life, be it my parents in the early stages, or some (not all) of my bosses in my professional life, and the more time I spend in this industry, the more I realise that this not the norm. So how can we change that? Well, it all starts with education; because you cannot teach what you do not know.
Perhaps one of the biggest lessons I learned doing P(our), was that if all you have is good intentions, you don't actually have a lot. Let me explain; yes – we had the passion, yes – we had the network and yes we most definitely had the vision BUT what we didn't have was the knowledge (how to set it up), the infrastructure (logistics is a killer ) and as a charity, we definitely didn't have the money. But in the end, we still managed to challenge the status quo at the time, and push the industry into a new format of education. To me, who spent almost 5 years at the beginning of my career teaching – this felt incredible – but it also made me realise how much I'd missed this side of it.
Which is why, when Campari Academy invited me to be part of this project, and despite having some initial reservations, I was very excited. Excited to work with the team of people I get to work with, excited for what this project can become and excited that a company like Campari Group shares the vision for rethinking drinks education, re-imagining how we digest information and of course that they want to be part of building the dream of 'what ifs'.
It's been extremely tough these past two years, and my hope is that we can take all of these lessons we've learned, and channel them into something tangible and useful for the next generations, and hopefully we can get back on track to reinvent a
future which is better than the past we've had.
Monica Berg"