No Work, All Play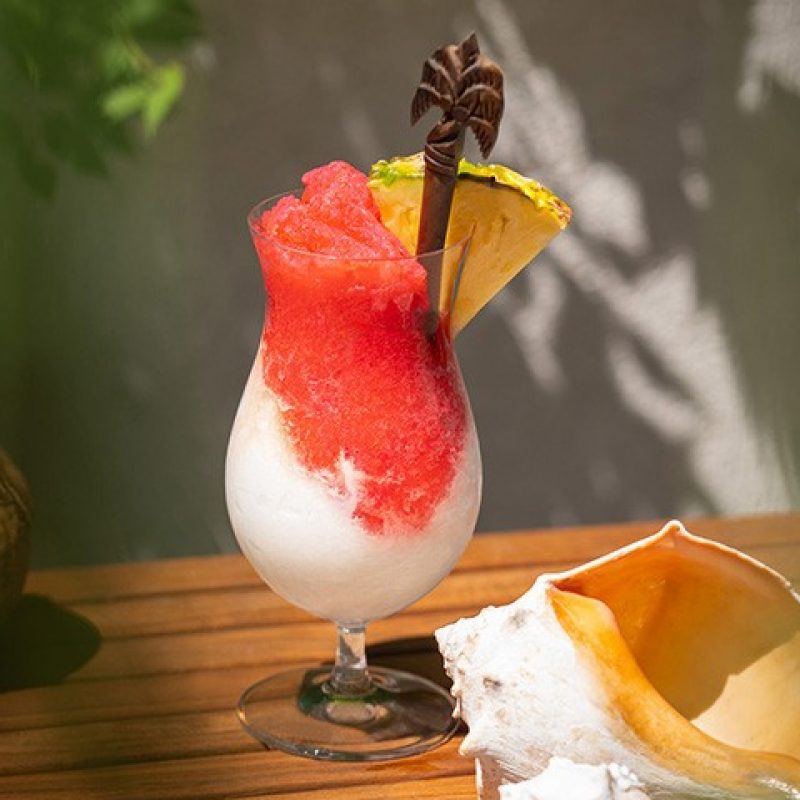 The Miami Vice Isn't Going Anywhere
It's unironically named after a hit '80's TV show. It's a visually arresting swirl of pink and cream, and it tastes even better than it looks. For the past few seasons. This drink has been the darling of the bar world, both in its original form and in updated versions.
If you haven't guessed yet: We're talking about the Miami Vice, and it has no shortage of fans.
"The Miami Vice is a mix of a pina colada and a strawberry daiquiri." Explains Los Angeles-based beverage director Ramsey Musk. "It's absolutely delightful. Just a disgustingly good cocktail."
The Miami Vice has been a bar mainstay for decades. But is having a moment as we enter the post-pandemic times. It's a drink that has long been served on cruise ships and in well-known American chain restaurants. In boozy and non-alcoholic versions, which means that many bartenders first encountered the cocktail before they entered the industry.
"You could have a really dope Miami Vice from [a big chain restaurant] but some of the world's best bars have also made their own variations with really cool ingredients" Campari Academy Operations Manager Eddie Hansel says.
"That's what I love about it. It can be low-brow or super high-end."
New spins on the drink play up the flavor combinations and the color scheme while approaching it through different techniques.
"I love pina coladas so much it's not even funny," Ramsey Musk jokes. "But I also kind of hate them because after one or two you feel a bit disgusting." His solution: a milk punch version of a pina colada using a blend of rums, including Appleton, cognac and spices. He clarifies the punch with coconut cream, then finishes the drink with a swipe of dehydrated strawberry daiquiri powder. "It's like a lighter version of a pina colada but it's still very much like 'Oh, that's pineapple, ooooh that's coconut, ooh the rum."
Musk's drink, the Panchamama, swaps out the richness of the original for a more sophisticated palate. "It doesn't necessarily taste exactly like a pina colada, but it tastes like what you want a pina colada to be," Musk says. "This is lighter and airier but it's still super complex and deep in its flavors.
It tastes like the tropical vacation that you don't feel bad about taking."
The bar world's adoration of the Miami Vice is part of a larger wave to "make fun things good," Norfolk's Josh Seaburg says. (The popularity of the drink is such that Seaburg personally knows a few bartenders who have "Miami Vice" tattoos.) In the spirit of embracing goofy cocktails while holding true to craft cocktail values, Seaburg came up with the idea of serving a Miami Vice in the form of frozen Jell-O bites
It took some tinkering.
"You have to use way, way more gelatin than you think because alcohol doesn't want to be made into a solid," Seaburg notes.
In the end, he cracked the code, serving the flavors side by side on a small plate. As with the original drink, people could choose how much of each flavor they wanted to have with each bite. The gelatin drinks proved so popular that one table at Seaburg's restaurant bought his entire batch one night, then gifted them to all the guests in the establishment.
Looking to the future of what this drink can be. Campari Academy's Eddie Hansel wants to take the Miami Vice in an Alice-in-Wonderland direction, with a playfully deceptive appearance. "One thing I'm trying to do with the Miami Vice is a deconstructed clarified version with two mini-serves," Hansel says. The drinks will be visually identical. "The surprise is that one is pina colada and one is a strawberry daiquiri."
Hansel's drink is still in the R&D phase. The obstacle? "I'm trying to figure out how to make frozen drinks that are clear," Hansel says. He's gotten the two liquids clear enough that a normal bar guest wouldn't be able to tell which is which. But Hansel wants to push the drink even further. "I want to clarify it to where it looks like a uniform liquid or frozen, and no one would be able to tell the difference until you taste it," he says.
While Hansel tinkers with his deconstructed Miami Vice. he notes that his work at the Academy is designed to be shared, tweaked and even improved upon. "We have an open door policy for bartenders," he says. "We happily hand over recipes and specs."
One thing's for sure, the Miami Vice continues to be a bar muse, decades after it first rose to fame
"What I would love to see, and I'm maybe too lazy to do it myself, is to make an ice cube version of one drink and then serve the other on it," "I would love to see a strawberry daiquiri served on pina colada rocks, so that it progresses into the drink over time."
Check out our Campari Academy classic recipe: Miami Vice