Hocus Pocus: These Drinks Are Not What They Seem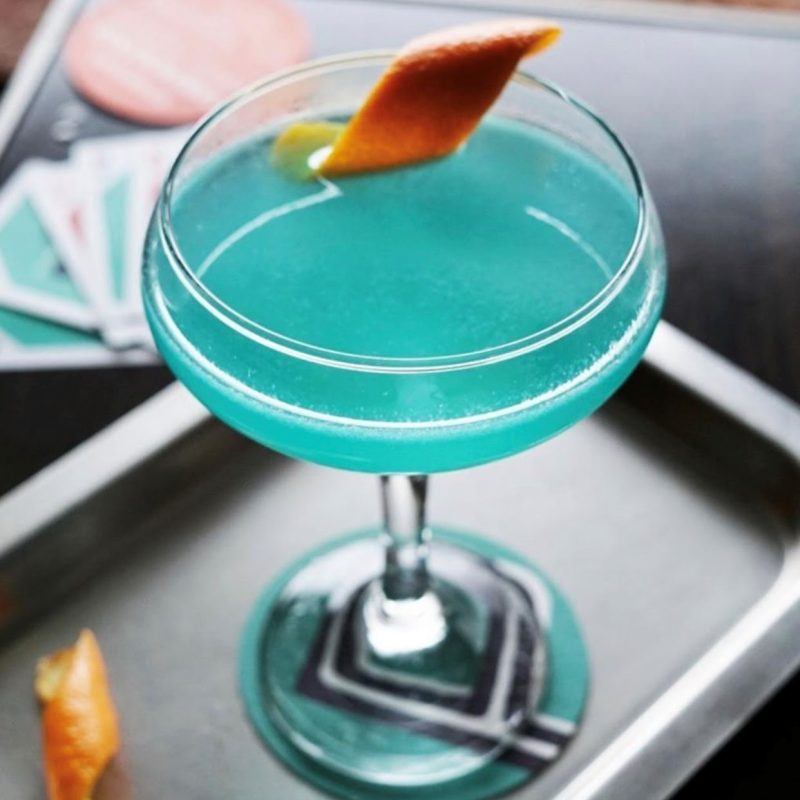 A drink that looks like a martini but bursts with lime and rum flavors. The delight of a pina colada, but with the fun of fizzy bubbles. A chilled coupe brimming with an electric blue brew. Reminiscent of island escapism, but concocted with gin or mezcal, and all but designed for the social media age. This month, with Halloween on our minds. We're taking a moment to spotlight drinks that shape-shift, surprise, and are more than what they seem.
"People know what a pina colada tastes like, but we thought, how can we deliver it in a really unique way?," Los Angeles-based bartender Michael Capoferri says. His bar's Tropipop takes centrifuge-clarified pineapple juice and drops down the temperature to "well below what a refrigerator is, but above a freezer". When temperatures drop to "as cold as you can get without freezing," the drink is then carbonated.
Carbonating pineapple, in particular, is tricky, Capoferri explains, because of pineapple's inherent foaminess-but it's also important in pulling off the visual illusion. "Pineapple is notoriously hard to carbonate," he says. "It's a flex that we were able to get this so bubbly. It's a tough one to pull off." The result is a drink that appears clear and carbonated as it is poured from the can, but erupts with pina colada flavors when sipped.
Think of clarification as something like a magic wand when it comes to transforming drinks and subverting expectations. Remember the first time you encountered a clarified milk punch? Milk punches were surging in popularity even before the pandemic; clarification has been used for centuries to refine textures as well as spotlight delicate nuances in flavors. Innovative offerings in the post-lockdown world show that consumers are still not over the charm of clear drinks that zing with hidden tasting notes. At his bar, Capoferri also serves a gin martini that uses extra-chilled clarified tomato water as the only form of dilution. "The martini drinks much more savory, and it has this umami note to it," he explains.
In the same spirit, imagine being poured a drink that looks like water but tastes like a daiquiri.
The Crystal Daiquiri, created several years ago by Portland's Adam Robinson, first appeared when his bar was staging pop-ups. It has built such a loyal following among his patrons that it's never gone off the menu since. It's sought after by regulars who often visit just to order it.
"When you pour this drink in a glass, it looks like a martini," Robinson says. "It's perfectly clear but it has three different rums in it". Quite often, he says, "you put this down in front of people and you watch them taste it. Their eyes light up and their eyebrows raise. They don't expect that much flavor in a drink that looks like water."
Robinson has taken his wand to other classics, reimagining well-known recipes such as the Painkiller and the Penicillin. But tweaking them in a way that makes something new using a range of techniques, including clarification and playful presentations. One fan-favorite drink was a riff on the Sex On the Beach, that 80'sconcoction with a terrible reputation.
Robinson's version used flavored ice spheres (frozen orange juice and also frozen cranberry juice) that floated on top of the clear drink. Not only would it command attention as it was served, the drink would change colors when the ice melted and seeped into the clear liquid.
Conversely, introducing color can be its own sleight-of-hand. Nick Bennett's Gun Metal Blue has a sapphire hue that many will associate with a rum escape, but instead unfurls into the recognizable smoke of mezcal. Its head-turning color and unexpected flavor twist have transformed it into a modern classic.
"We wanted that eye-catching color and sense of escapism. But presented it in a way that reflected a New York cocktail enthusiast's sensibility". New York bartender Nick Bennett says. "Mezcal gives it a bold smokiness and the balance between the fresh lime and syrup is skewed towards the sour more than the sweet."
Along with clarification, dropping the temperature can completely transform a drink into something unexpected. Think of the industry favorite Irish coffee slushies from New Orleans (if you know, you know) as well as bold takes on unexpected slushie flavors such as Old Fashioneds and Negronis.
More recently, cutting-edge technology leapt from food refrigeration to experimental bars with the advent of super-cooling machines that allows bars to craft the coldest martinis on earth. Toeing the line between ice art and liquid, these extra-cold martinis pour out as mini-glass sculptures in a coupe. Admittedly, this space-age tech remains out of reach for the vast majority of bars.(only a handful of venues have access to super-cooling tools); however, the creativity that new tools spawn typically lead to drinks metamorphosis across the industry.
When executed well, drinks that offer more than meets the eye will charm consumers. Maybe even become that signature drink that regulars clamor for.
"So much of taste is really perception," Adam Robinson says. "You taste with your eyes as much as you taste with your mouth."