Breakfast Meets Happy Hour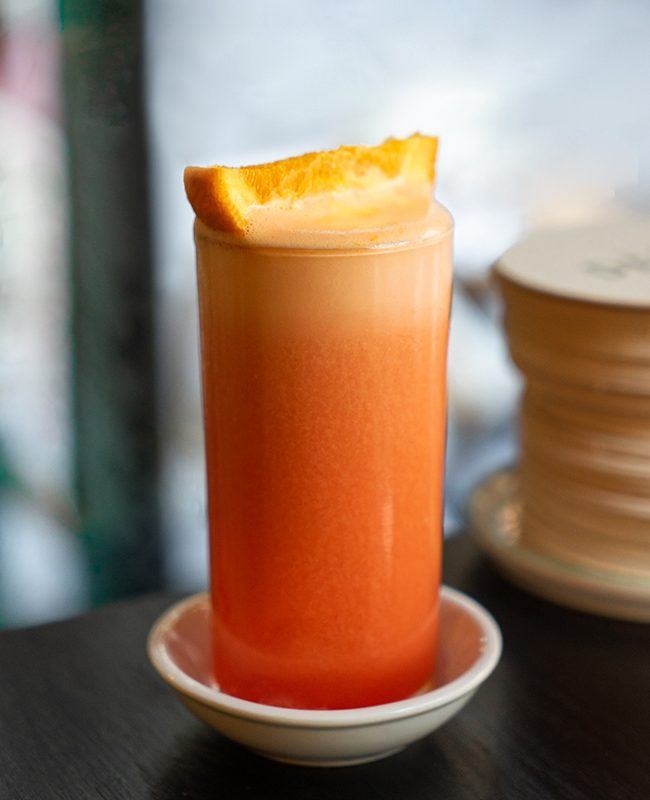 The Garibaldi
From satisfying salty-sweet notes to the familiar tang of citrus. Breakfast ingredients have long provided a source of inspiration for cocktail flavor combinations that can appear from brunch to nightcaps. 
As the enduring popularity of the Garibaldi (made with Campari and fresh orange juice) and the Ramos Gin Fizz (made with raw egg whites) show, the trend of breakfast staples in drinks isn't going anywhere.
Eggs have been used in fizzes, nogs and flips for centuries, in part because they transform drinks into silky liquid desserts when briskly shaken. "A whole egg adds creaminess, frothiness and body," Tess Sawyer, a beverage director in Hollywood, says. Over the recent holiday season, Sawyer created a drink that combined whole eggs, Appleton 8-Year Rum with black strap rum, Amontillado sherry, pistachio syrup and coconut milk. "It's warming and comforting," Sawyers says of her Flip Slip drink. "It's cozy like a sweater."
Flips and fizzes can be updated for the spring season by leaning into citrus flavors, but Sawyer notes that raw eggs can react to citrus if mixed incorrectly. "Emulsifying has to be done delicately," she says. She advises mixing sugar and eggs (or egg whites) first, as one does in baking. After the sugar and eggs are emulsified, introduce lemon or other citrus juices. "You can make egg drinks more fruity or summery," she says. "It doesn't always have to be heavy and wintery. Sugar is the key factor with eggs for emulsifying."
Maple syrup and waffles provided a mood board for Camron Robertson and Benny Hurwitz, who each reimagined classic riffs that upped the ante with savory-sweet profiles.
Last fall, Robertson, a Los Angeles-based mixologist, infused whole waffles with maple syrup, then cooked them sous vide before straining the entire mixture. He also butter fat-washed Wild Turkey 101. The result: A toasty, caramelized syrup and a buttery bourbon that transformed into a crowd-pleasing Waffle Old Fashioned. (Cocktail fans may recognize a drink with a similar profile was also served at NYC's now-shuttered Existing Conditions.)
Because he was going to be showcasing maple syrup. Robertson said that he wanted to make sure that the drink was balanced. "Introducing savory notes is really important, so that it doesn't drink just like a sugar bomb." Robertson says. He often adds a touch of salt to most of his drinks. Especially those that lean sweet. In the case of his Old Fashioned, the salt brought a "bright buttery salted bourbon" note to the fore. "Strong flavors like bacon or butter can be great but they take over fast," Robertson says. "You don't want the drink to be too one-note."
Wild Turkey Ambassador Benny Hurwitz also updated the Old Fashioned by infusing brown-butter-and-maple syrup flavors. His multiple riffs included trying out different bitters, such as coffee and black walnut, to bring in more breakfast themes. One of his favorite versions featured a strawberry maple syrup. "I love pancakes or waffles with strawberries," Hurwitz says. "That was my influence there. You can tweak things how you like it, like the way you do with breakfast in general."
Breakfast jams, jellies and preserves are an accessible way to introduce breakfast flavors, Hurwitz notes. "There are a lot of staples you don't have to mess with too much," he says. "You wouldn't have to do anything to it. You can just add a scoop of jam and shake it up." A strong shake is needed to break up any jam bit left in the tin.
What's breakfast without a glass of OJ? The Garibaldi, a winsome mix of orange juice and Campari, has enjoyed a resurgence in popularity in recent years across the U.S., building upon a storied reputation as a signature drink in Italy.
High-powered juicers at top bars introduced an American clientele to so-called "fluffy orange juice," propelling the drink to classic go-to status. "At our bar, our Garibaldis have become so well known mostly because of our use of 'fluffy' orange juice. It's inherently a very simple cocktail – Campari and orange juice – so incorporating the extra textural layer adds a level of delicacy that is unusual, refreshing and keeps you coming back for more," New York's Linden Pride says. "The key is squeezing the orange juice immediately before serving. Once juiced, we use a high-speed juicer that aerates the OJ, resulting in the 'fluff.' "
Part of the drink's appeal is its accessibility and balance. "People who don't know if they like bitterness will try it and go, Oh this is great," Campari's Daniel Warrilow explains. "The sugar in the orange juice helps to balance the Campari bitterness."
When experimenting with new drink styles, whether it's a cereal-infused Ramos Gin Fizz or a breakfast-for-dinner Old Fashioned, consider how the flavors in the drink will work with food pairings and the time of day the drink will typically be served.
"When I'm thinking about how to make a cocktail, I look at what people are eating, what is the setting, and what is the time of day," Warrilow notes. "Designing a cocktail menu is not always about throwing crazy stuff into a glass."
Having breakfast for dinner is always a treat, Tess Sawyer notes. "Breakfast cocktails at dinner are kind of the same thing," she says. "By looking at breakfast ingredients, we're expanding what we can do with drinks."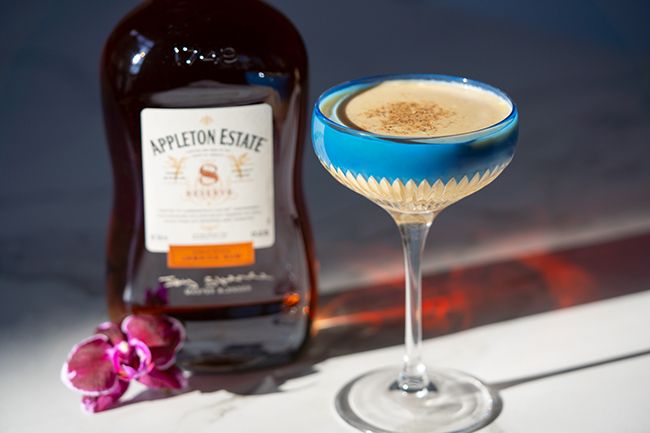 Flip Slip
1 part Appleton Estate® 8 Year Old Reserve Rum
1 part unsweetened coconut cream
½ parts amontillado Sherry
1 whole egg Add all ingredients together in a shaker tin. Dry shake (without ice to emulsify egg) then shake with ice for 10-15 seconds. Strain into a goblet or large coupe and garnish with fresh grated nutmeg.