Thanksgiving, Imbibed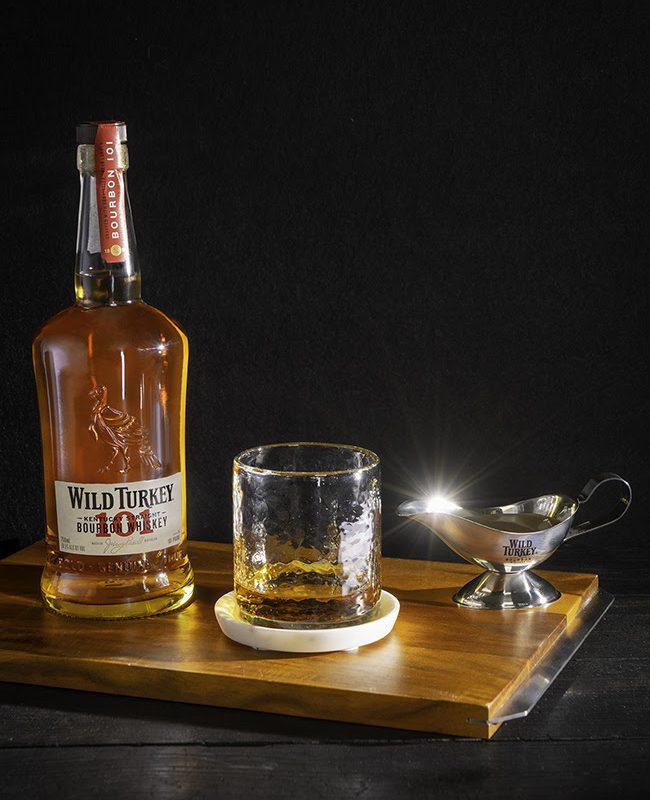 This month, our team of US Brand Ambassadors brings you their favorite Thanksgiving cocktails. From Celery Sours to Gravy Backs (yes, you read that right) to a cranberry-sauce inspired Manhattan. For a potluck-inspired drinks menu, but with a Campari Academy twist.
Anne Louise Marquis, National Portfolio Brand Ambassador, is a lifelong vegetarian. Her Celery Leaf Sour, a great early-in-the-night kind of drink. Pays homage to "the humble celery stick, often something I eat a lot of on Thanksgiving," she says. The Celery Leaf Sour is a bright swirl of Espolòn Tequila, green tea-infused simple syrup, fresh lemon juice, celery leaves and a pinch of salt.
Italian Portfolio Ambassador Daniel Warrilow serves up a crowd-pleasing cranberry-inflected Manhattan this holiday season. Made with equal parts Wild Turkey Rare Breed and Cinzano 1757 Rosso vermouth, plus four dashes of spiced cranberry bitters, the drink is garnished with a chocolate-covered cranberry.
Savory dishes inspired by Thanksgiving turkey include Appleton Estate Brand Ambassador Monique Brackett's Sonder cocktail. Made with Appleton 8 Year-Old, tamarind and Scotch bonnet syrup and aromatic bitters. The Sonder is a heady swirl of flavors inspired by fried jerk turkey. Also on Campari's potluck menu, the legendary Gravy Back, a favorite of Campari Academy Lead Jessamine McLellan.
According to bartender lore. The Gravy Back came to life at a New York industry orphan's Thanksgiving dinner where pickle juice was unavailable but plenty of gravy remained.
"The Pickle Back is one of those things that people have a visceral reaction to," McLellan says. "The Gravy Back is very similar. People are either 'That's disgusting' or 'I would like to try that.' " In her family, the Gravy Back is now woven into family traditions, with members doing a post-dinner toast together via virtual chats and FaceTime if they aren't in the same place.
Two one-ounce servings are poured (separately, as in the style of the whisky pickle back). One glass holds Wild Turkey 101 Bourbon. The other: Thanksgiving gravy poured from the holiday gravy boat. Temperature is key, because no one wants cold, congealed gravy nor piping-hot gravy all at once. McLellan notes that the Gravy Back is a post-dinner drink, after dinner has been served, and the gravy is close to room temperature.
The order of the drink is also important. Wild Turkey 101 Bourbon introduces bold peppery notes with a long spicy finish, while the gravy coats your palate. "You're taking this rich, fatty, salty liquid that offsets the sharp edges and spiky heat of the whiskey," McLellan says. "It's magical. You have the warming strength of the whiskey that stays with you, and you calm it down with this rich and unctuous liquid."
Savory spirits pairings are peppered throughout the world and can be found in cocktail history. The Sangrita, for example, pairs servings of neat mezcal with spicy tomato-based pours. The Bull Shot, which is said to date to the 1950s. Pairs chilled beef broth, Worcestershire, and lemon juice with vodka.

No Thanksgiving dinner is complete without pie. For an elegant postprandial sipper, look up the Brown Sugar 101 Old Fashioned recommended by Wild Turkey Brand Educator Bruce Russell. An apple pie-inspired cider with Grand Marnier Cordon Rouge and allspice butter courtesy of Grand Marnier Brand Ambassador Xavier Herit.
Wild Turkey Brand Ambassador JoAnn Street recommends the Orchard Thief. A seasonal riff on autumnal notes, brought to life with Wild Turkey 101 Rye, Cynar, cinnamon apple shrub and lemon juice. "This drink was created by Gary Wallach of New York City to tie in the flavors of fall and nothing says fall like apple picking," Street says.
Feeling ambitious? Whip up a Pumpkin Pie Clarified Milk Punch made with pumpkin-infused Wild Turkey 101 Bourbon, brown sugar, orange and spice tea, lemon juice, and clarified with whole milk. "This is a drink I created with my friend PK around the holidays last year. Capturing everything we love about pumpkin pie in a cocktail," says  Wild Turkey Portfolio Ambassador Benny Hurwitz. "It's packed with baking spice and pumpkin flavor and by using the clarified milk punch technique the cocktail gets a great silky mouthfeel. Wild Turkey 101 bourbon is the perfect base spirit for this cocktail because of it's oak, spice and sweet flavors."
We wish all of you in our Campari Community a wonderful Thanksgiving. Follow Campari Academy on Instagram where we will feature these recipes.
Gobbles!