Building Blocks: Creating Diversity and Equity in the Bar Industry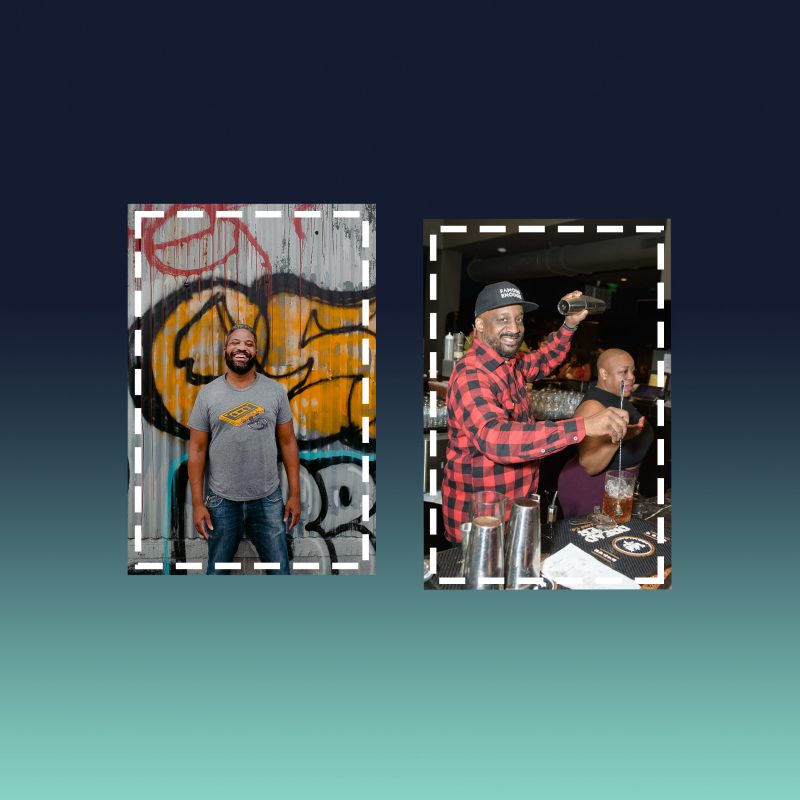 "Diversity and inclusion isn't easy," bartender Josh Davis says. "It's uncomfortable but it's necessary."
Davis debuted Brown & Balanced in 2017, as a way to showcase emerging Black and brown bartending talents via a series of pop-up events. "And now, five years later, it's grown into a complete movement and a lifestyle brand," he says. Brown & Balanced has multiple new projects lined up, including mentoring initiatives, podcasts, films and video, all circling outward from his original goal of spotlighting the next generation of bartenders of color.
Davis says that he started his project out of necessity. Too often, he found that he was part of a short list of BIPOC bartenders. "For a very long time, there weren't that many of us that were showcased across the industry," he says. "[When I would come] to events like Portland Cocktail Week, or Tales, or Camp Runamok, it would be the same five or six of us. We all forged relationships and got to know each other."
This is a sentiment echoed by Touré Folkes, founder and program director of NOLA-based non-profit Turning Tables. Folkes was moved to create the organization, which advocates for equity in hospitality by providing hands on training and mentorship, in large part as a response to being "fed up with being the only person of color in a room or in a situation." This alienation had real, tangible consequences, he explains: "I was invisible for so long, and most people are invisible—you get passed up for jobs, you get passed up for opportunities, and you start to question if you have the skillsets or the abilities to do what your other counterparts are doing. And that brings on a lack of confidence, you lose a sense of your value within spaces.
Folkes and Davis each responded to their experiences through the lens of the industry at large. Regarding his organization, Touré explains "I think the most important thing I do with Turning tables is provide a community for people coming into the service industry, but also in life in general…and now they have [that] and are feeling empowered to do whatever they want to do: the sky's the limit for them."
"Put people in a position to be successful. [Businesses] can't just say, 'Well, I hired this one person so I did my job.' That's not it."

Josh Davis, Brown & Balanced
But that is just the first step. Folkes notes that optics or a single hire cannot change a system, especially without the other factors in play to create success: "If you're going to hire someone, regardless of color or race, you should be able to train them properly." It starts with hiring, but it doesn't end there. Hiring BIPOC talent means also investing in someone's future, so that they can grow within an organization and move into executive positions. Representation means being aware of how glass ceilings and other barriers have kept people back. "Put people in a position to be successful," Davis says. "[Businesses] can't just say, 'Well, I hired this one person so I did my job.' That's not it."
He adds, "If you hire me and I can only stay at this one level then you shouldn't have hired me. You should allow me to grow and prosper, so I can hire someone else and I can put a team together."
The question then, is how specifically to incubate these conditions for success? There's no one answer, but it begins before hiring and evolves after. For bars and restaurants, thoughtful diversity and inclusion initiatives can mean giving bartenders of color opportunities to create cocktails, or even entire menus, to give them a sense of ownership and pride, Davis adds. Not only do such platforms raise up your staff, they help identify your bar as a welcoming space to a diverse audience.
Having built a platform based on inclusion, Brown and Balanced continues to focus on showcasing emerging BIPOC talent in multiple ways. Last year, Davis hosted "Brown and Balanced Live," a video interview series on YouTube, featuring bartenders such as Lindsey Stanard, Gene Samuel, Kyisha Davenport and Jarmel Doss.
At last year's Portland Cocktail Week, Folkes created a guide on Creating A Sense of Belonging for his Campari Academy presentation. He called out five specific points to consider when creating a inclusive culture for your team:
Having an advocate that looks like them and can offer substantive mentorship.

Actively put yourself in a mentor position, seek out mentees, hire intentionally through all skill sets of the company.

Access to resources, knowledge, and a culture of continued learning and autonomy.

Structure these elements into daily operations. Unapologetically ask for resources internally and externally for your team to support the quest for knowledge and learning.

Creating boundaries by voicing wants and needs.

Nurture a safe space for employees. Implement ways to systematically receive anonymous feedback. Advocate for those wants and needs on their behalf.

Being allowed to be themselves and trusted to execute without oversight.

Trust is a mutually earned component of any relationship. Empower them to control their destiny and "run their business."

Collective experiences that are inclusive of those who may not be the majority (sober employees, for example).

Being a team and feeling like a team are two different things – there's no "I" in Team.
In other important ways, the work of empowerment comes even before the first shift. Brown & Balanced is hosting a "Headshots and Resumes" event on Monday, February 20 in Chicago. Black bartenders are welcomed to RSVP to this special event to receive free resume coaching as well as two professional headshots.
He's just getting started, he promises. "In 2023, I want to see more Black and brown faces," Davis says. "I don't want to have to be on camera in 2023. Let's find some new people that are really dope, move me out of the way and give them a shot."