How to Design Your Bar to Be Holistically Sustainable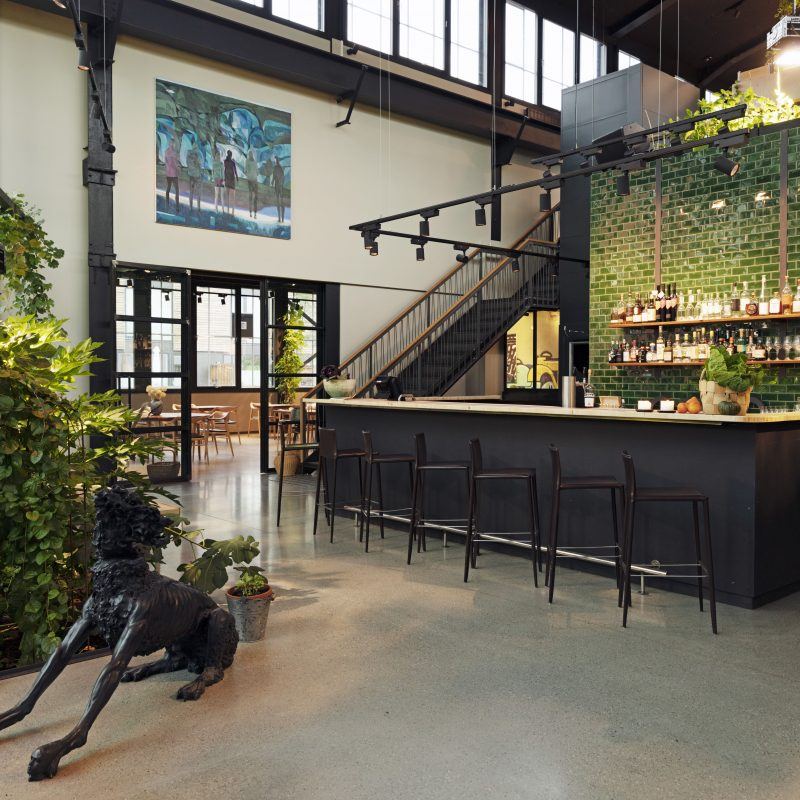 Designing a bar to be holistically sustainable is as creatively satisfying as it is daunting. On one hand, you get to choose the materials for furnishings and where they come from, the style of the bar itself, the sound and lighting systems, and all of the other details that shape your bar's ambiance. On the other hand, though, there's the less romantic aspects of bar design: choosing energy-efficient glassware washers and toilets, ventilation systems, and measuring every aspect of the space for workflow efficiency; from the distance of the bar top to the top of the bar stool, to the distance between a bartender's station and the POS, and so on. Unlike forgetting to put lime juice in a Mojito, making a mistake when designing a bar is significantly more costly and time-consuming, so mindful consideration and planning, preferably with a team of experts, is requisite.
As a prospective bar owner, it's easy to get caught up in the thrill of purchasing all of the advanced culinary equipment which allows your bar to create high-concept serves with in-house distillates, clarifications and the like. But the holistic design of a bar is more integral to its long-term success as a business than the development of cocktail ingredients. To be environmentally, socially and financially sustainable, all details of design must be given the necessary attention, regardless of how mundane some may seem. Each of these pillars of sustainable design is as important as the other. Designing an energy-efficient space that uses reclaimed and recycled materials has a positive environmental impact; having a functional and inclusive bar design mitigates bartender burnout and is optimal for guest satisfaction; and both of the formerly mentioned points save a bar money in the long run.
Designing and opening a bar that is conceptually-sound and sustainable is no simple feat, but by following a few overarching guidelines you'll be well on your way to building a strong foundation for your bar's business. Here, some of the bar industry's most well-established designers and bar professionals weigh in on the essentials for designing a holistically sustainable bar. It's by no means an exhaustive guide, but the tips below are enough to set you on your way to a more mindful bar design strategy; and that's not a bad place to start.
MAKE THE MOST OF THE SPACE YOU INHERIT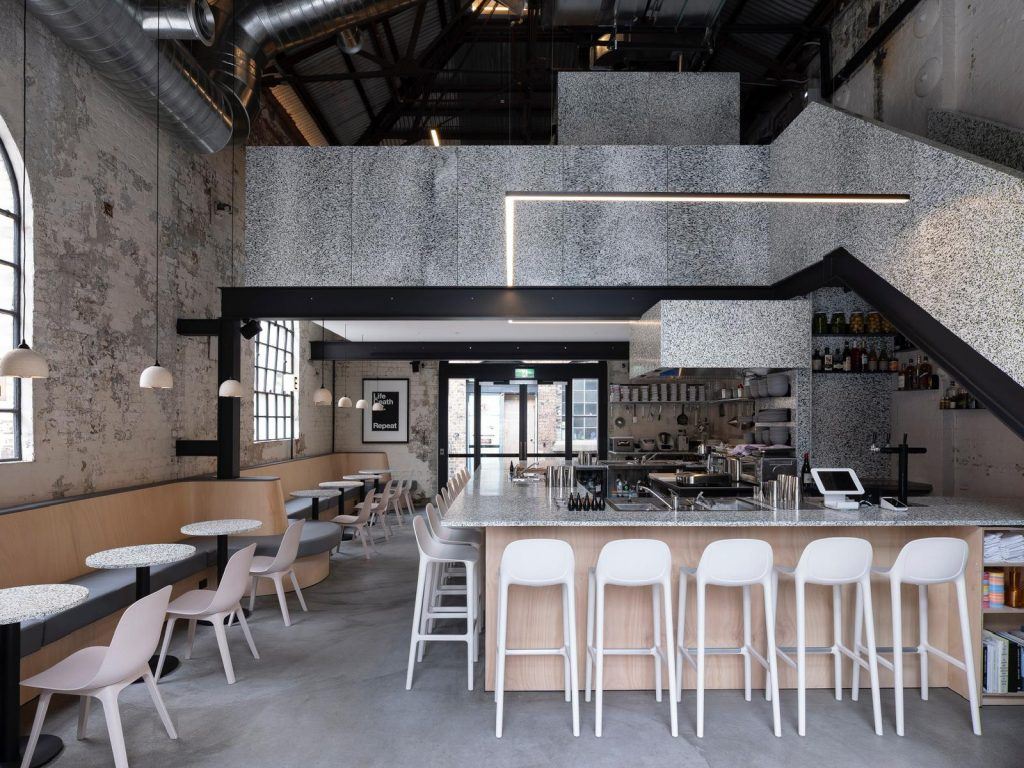 The reality for most new bars and restaurants is that there's a certain amount of inheritance to be expected from the previous tenant; specifically if you're renting an old space. While a full refit of both the energy systems and layout is possible, it's important to be agile and think long-term. From a design perspective, consulting with experts to assess the space's current weaknesses is the best place to start. They'll advise you which changes to make to get the most value for your business—both in the short and long term—and how to make the most of the space and materials you've been given.
"I think one of the most fundamentally sustainable things is to work with what you have," says Ciarán O'Brien, architect and co-founder of Red Deer, an award-winning London and Barcelona-based architecture agency that specialises in sustainable design. "Working with what you have is materially efficient, and it saves time (and money, inherently)… We would typically tweak modified kitchens, refurbish or upgrade finishes, or stain or dip them in kind of like contrast paints; we would mess around with what's there [before adding]. That being said, that doesn't mean you have to live with something that you're not happy with—as it's your space—but you have to approach design with a desert island mentality of sorts. If you have a limited amount of resources, you work out the best use of them, and always find some joyfulness that can be worked in."
At RE, an award-winning Sydney-based cocktail bar driven by a low-waste, closed-loop philosophy, owner Matt Whiley applied this exact concept of making the most of an inherited space to give his heritage-listed site new life. "At RE, the focus for the food and beverage menus is on wasting as little as possible and giving food waste a second life," Whiley explains. "We applied this same concept to the space we are in, making the most of what already existed within it and regenerating it". In the warehouse-like RE which is built with steel and brick aplenty, Whiley reused some of the steel that existed within the building to construct the bar's mezzanine. From there, he used a majority of recycled materials to fit-out the rest of the space. Even though guests at RE are surrounded by sustainable design, none of it is in the guest's face; they're all subtle details that simply align with the bar's concept and low-waste ethos. It's during the initial planning phase where bar owners are able to retain existing features of the space and work with the natural layout is the best way to avoid costly building work. But patience is key, as most bars and restaurants, for the sake of budget, only get to fit out a space once with minor upgrades and adjustments along the way.
"When you are in the design phase, question everything," says Whiley. "Once you start building, you can't go back—or, if you do, it's expensive—so that's the time to question everything. And don't be afraid to look to your employees for answers".
PLAN FOR A LONG-TERM SUCCESS WITH YOUR BAR DESIGN, AND INVEST IN SUSTAINABILITY-MINDED EQUIPMENT AND TECHNOLOGY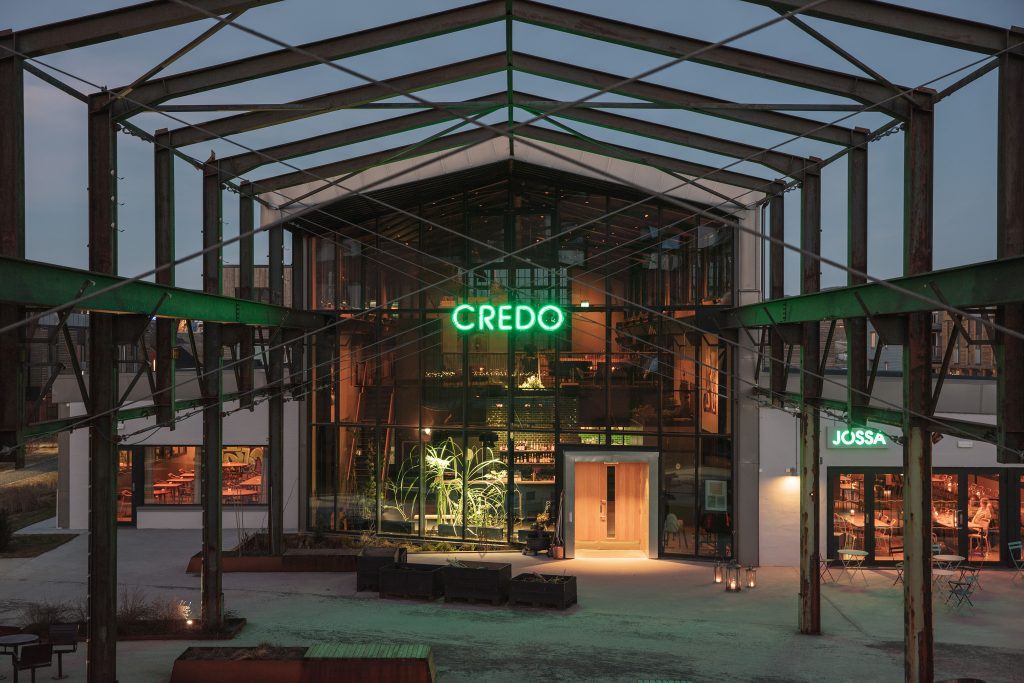 Investing in energy-efficient bar and kitchen equipment, and efficient air conditioning, ventilation, heating and lighting systems is paramount for long-term, sustainability-driven savings. The upfront cost of equipment with healthy energy ratings can be costly, but the best way to think about this investment is to consider the total cost of ownership (i.e total upfront cost of the fit out, plus the forecasted energy usage over the next five to ten years), and determine how long will it take for the cost savings in energy usage to offset the upfront cost.
For some spaces, there are some passive design methods to consider which can reap significant savings based on layout alone. "In warm regions, ​​some businesses are designing spaces that don't need air conditioning due to the position of windows, doors, etc.," explains César Garduño, sommelier at one Michelin-starred Credo Restaurant in Trondheim, Norway. "Maximising natural light is also a great way to save electricity, especially during summer where the days are longer. At Credo, we use natural light to power our space, which is a modern glass-and-wood building that looks like a huge greenhouse. Within our restaurant, we grow and harvest many of our own herbs and spices — this reduces the carbon footprint of suppliers, but also allows us to save and grow some produce during winter."
Beyond optimising a space's layout for energy efficiencies and investing in energy efficient equipment and systems, there's a growing market of sustainable technology that is worth considering. "We urge our clients to try to close their own systems," O'Brien says. "At Red Deer, we've been working with restaurants and companies who are trying to close the loop on food waste with biodigesters that they keep in their basements, alongside mycelium growing to create self-sustaining energy. In many ways, this energy created from breaking down organic food waste can be fed into the lighting and so on to power your own space."
Another sustainable piece of equipment to consider during the design phase is a wet belt sander for sanding chipped glassware — an investment some bars have made to mitigate the cost of replacing fine glassware for cocktails.
Water waste is also a costly factor to consider. Outside of the kitchen, the toilets typically use the most water in a bar or restaurant. Install waterless urinals in male toilets to reduce toilet usage (unisex toilets also worth exploring for inclusivity), low flush toilets (typically 4.5 L), and use IR sensors on taps and hand-dryers to control and minimise water usage. As for other major culprits of water waste, look to highly-rated glassware washers. "If you have the budget for it, it's worth investing in an efficient glass washer," Whiley says. "A washer that cools down and heats up quickly, and uses less water is important. Also, consider what chemicals you're using to wash the glasses as that water waste can be harmful for the environment as well. Meiko is one of the most sustainable glass washer manufacturers on the market.
CONSIDER THE MATERIALS YOU USE AND WHERE THEY COME FROM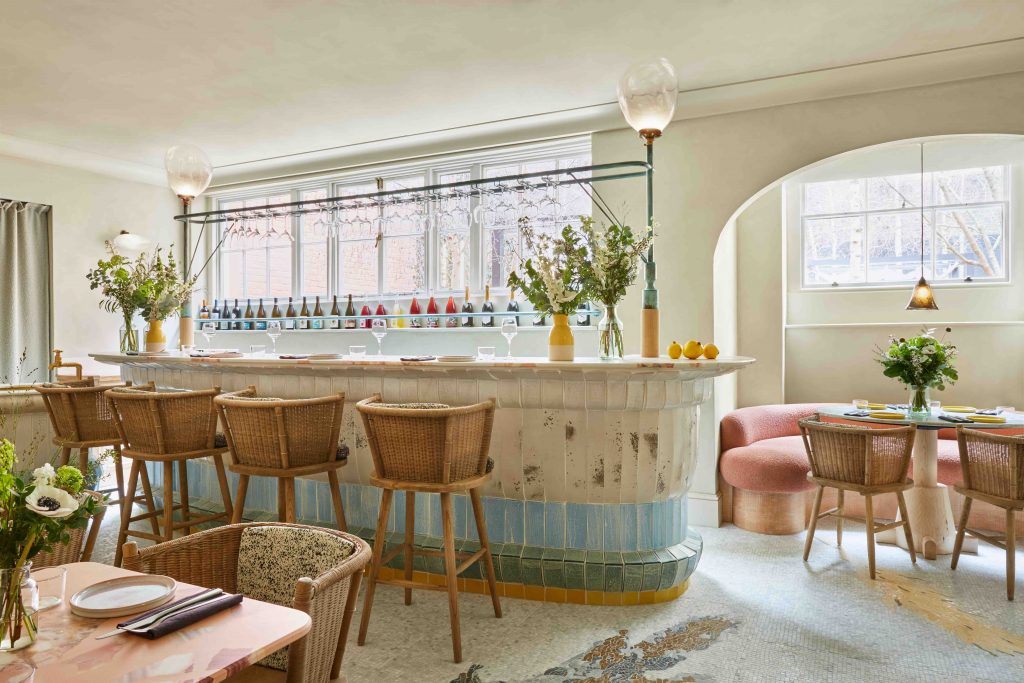 Sourcing sustainable materials can admittedly be one of the more challenging parts of any design as location is key. But to level the playing field, while still being mindful of a material's carbon footprint, it's best to look for products and materials that are Cradle to Cradle certified. It's a globally recognised certification which highlights sustainable products made for the circular economy. Investing in sustainable materials that can be, or have been recycled, reclaimed and reused—even if they initially carry a carbon footprint—are instrumental for long-term sustainability.
At Native at Brown's in London, the bar and indoor dining space embraced a low-waste ethos, and completed a sustainable design on a budget. "Native was a very special project for us, as it was the smallest project we ever did," O'Brien says. "It was really interesting as we had to find a common ground between the restaurant's nose-to-tail approach to food that champions local craft, and high-end fashion in the design. It's a project where we were really able to attack everything sustainably as opposed to picking our battles, which is often the case with larger projects. Even though the budget was compact, we were able to champion everything, and it was overwhelmingly successful."
At Native, the ceilings are made with naturally-pigmented clay from basement digs in West London, sourced from Clayworks, a London-based company. The timber chairs and tables are made from fallen woods across the city of London. And the floors were designed with a Northern Ireland-based company who created rubble-like tile floors accented with some relevant artwork out of waste material. The hand-made effect which makes the floor look like old Roman tiles was created by the manufacturer turning off all the controls on their machines during the production process. "It was pretty affordable overall, and it told a beautiful story," O'Brien says. Taking a step further, O'Brien also notes that there are companies like Smart Eco in the UK who are creating materials with plastic equivalents made from plastic bags and other waste plastics that are melted and blended. "It's one way that a company is cleaning up plastic, putting it where it should be as a forever product, while still creating something beautiful and interesting at the same time," O'Brien adds.
At RE, Whiley has sought out sustainability-minded companies similar to Smart Eco when fitting out his bar space with reclaimed and recycled materials. "All of our chairs and stalls are made from a material that is made from sawdust and plastic," Whiley explains. "Our banquet seating is made from the fibres of pineapple leaves; our lamp shades are made from mycelium; the coasters are made from post-consumer plastic; most of our glassware is rescued from Maison Balzac — we take the pieces that aren't quite right and would have been thrown in the bin; and we have a piece of art on the wall that's made from bushfire charcoal. In essence, with the exception of a few things that we're still working on, everything you touch as a guest is either a recycled material, or a byproduct."
Similarly, at Credo in Trondheim, the restaurant sources local and sustainable materials for their carefully curated space. "All of our furniture is Norwegian, such as pieces from Fjordfiesta by Pål Lunder, where the intention is to create furniture that will last, and is both ethically and environmentally positive," says Garduño. "Our chairs are from Hans Brattrud, which use materials like stainless steel base, water-based lacquer and wood from certified forestry. We also have a collaboration with Sissel Wathne who made ceramics from pulverised bones and shells of cow and langoustine respectively; these service vessels can be found on the menu as well."
Other good materials to use when buying new as opposed to reusing what's already in the space include bamboo, recycled glass, FSC timber, linoleum, cork, coconut palm, rubber and organic paints. Stay away from fibreglass, unadulterated concrete, chromed metal, non-FSC timber, and other materials that emit high levels of volatile organic compounds. And investing in sustainable materials may even reap unforeseen savings in the long term for some businesses. "I think sustainable design will eventually become a part of building regulation in the UK," O'Brien says. "A certain percentage of your project will have to be made from waste, or with materials that mitigate or offset waste. It's something we'll start seeing much more in building design in the next couple of decades".
DESIGN A LAYOUT THAT OPTIMISES BARTENDER PERFORMANCE AND MITIGATES BURNOUT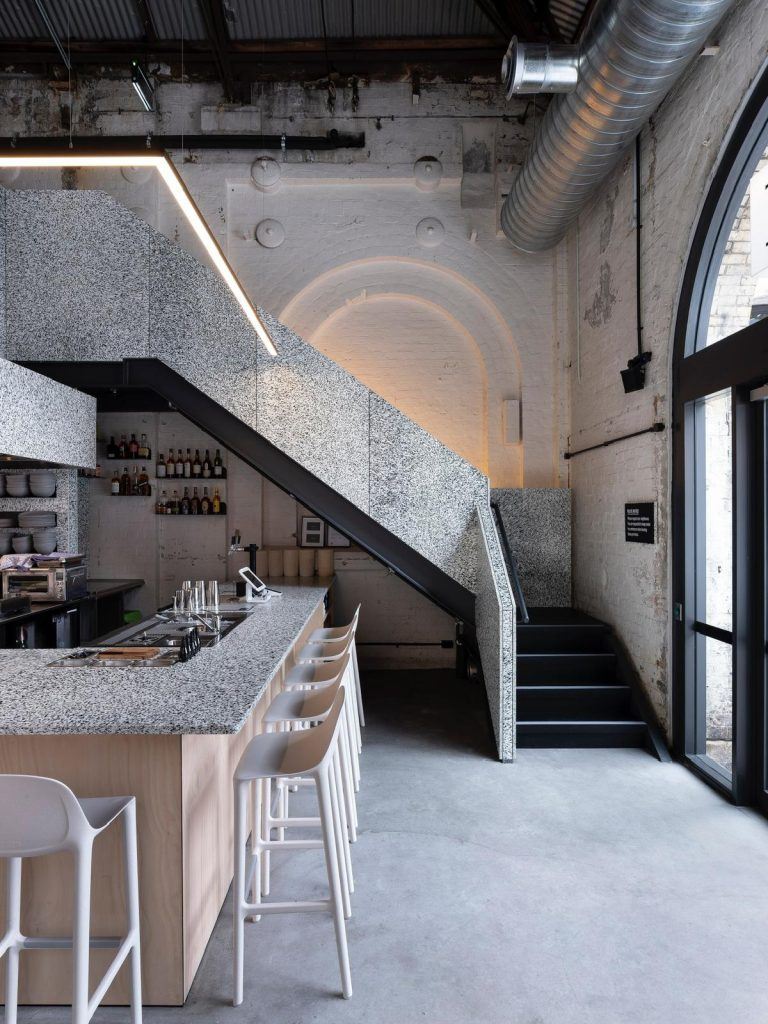 The salience of designing ergonomically-sound and space-efficient bars cannot be understated. The quicker a bartender can make a round of drinks and reset their station, the more revenue a bar can expect to see. This means measuring every centimetre of a bar space and ensuring sinks are positioned properly, tin and glass rinsers are within reach, and everything that a bartender needs to work efficiently is within one pivot. "One thing we'd encountered on a research trip to Helsinki was the efficiency of horseshoe-shaped bars, and their ability to serve more guests efficiently with minimal movement" says O'Brien. "We applied this design concept and did four bars in this style back to back. In terms of the space it took up on the plan, it was about 20% to 30% less than if we'd designed the bars as straight runs. Typically, you think that a straight run is cheapest to design, which is technically true, but in terms of the amount of staffing that you need to operate curved bars, they can be more efficient. It's important to think about how micro movements make a difference."
These consistent movements are something that Whiley became mindful of while designing his previous bar, Scout, back in 2017. "I was really conscious about bartender ergonomics," he says. "I really disliked the old style of cocktail bars where you've got a bar top and then you have your ice well and sink below and have to reach down really low to scoop ice. I'm a bit taller, and my back was constantly hurting after a long shift or week, so I thought there had to be a better design." At Scout, Whiley decided to build the bar about a metre high where everything a bartender needed was in the eyeline of where they'd need to work. "It's really nice," Whiley says about the socially sustainable design. "When your body is aching during service, sometimes that manifests as irritability; so this design isn't only helpful physically, but mentally as well."
Bar design plays a crucial role in a bartender's ability to perform at their best, minimising the potential of burnout, while maximising profitability. At the end of the day, holistic sustainable design is as much about the employee experience as it is about the guest's. These guidelines are truly just the tip of the iceberg. So as Whiley says: question everything through the lens of sustainability. Doing so from the get go sets you and your bar up for long-term success, and has a positive impact on the environment and your staff in the process — a win all-around.
Tyler Zielinski