Spice World: The Pumpkin Spice Latte Infuses New Cocktail Creation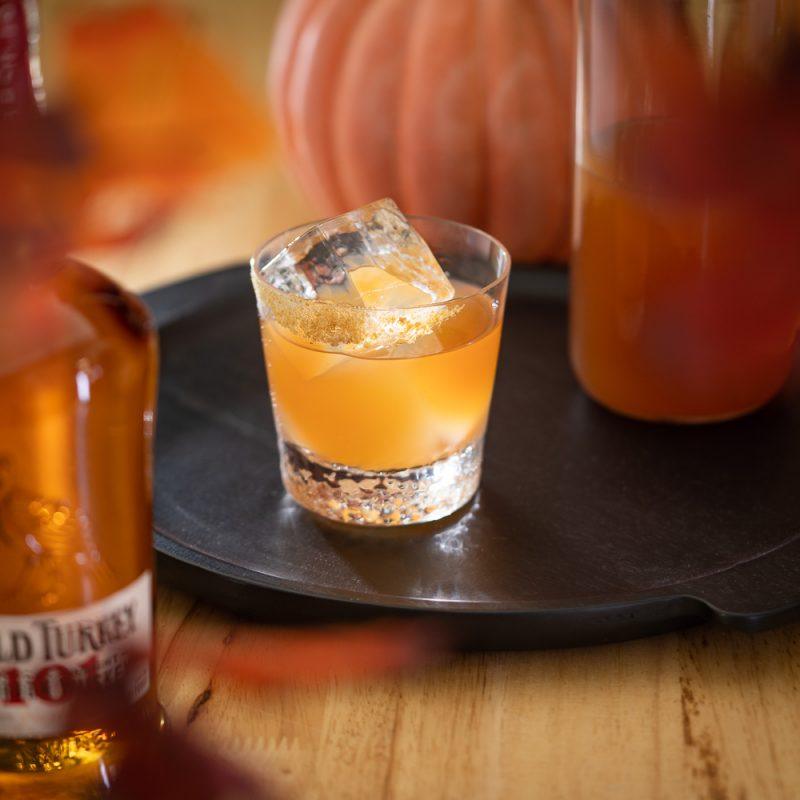 Love it, hate it, or love to hate it, Pumpkin Spice Latte season has people reaching for fragrant warming spices or rolling their eyes. To be sure, the topic is divisive. But why is there such antipathy and derision among bartenders towards . . . cinnamon, nutmeg, and clove? Who's mad at baking spices?
"My understanding of the debate is that it's one of those generalized very popular flavors that a lot of craft bartenders rail against, if for anything, the fact that it's too popular,"
veteran New York bartender Nick Bennett explains. "I think bartenders tend to fixate on the unpopular qualities of some drinks."
"I think there's an element of misogyny involved," Daniel Carlson, a bar manager in Chicago, says. "People like to hate on the new and young thing, especially if it's trendy with women."
"I am pro-PSL," Caitlin Burke, a beverage director in New York City, says defiantly. "If the people love it, you should give it to them. Everyone looks forward to it and it's an exciting time of year to go down that rabbit hole. I'm not ashamed to do it."
In general, mixologists agree that the core "pumpkin spice" flavors are those that you'll find inside a traditional pumpkin pie, such as cinnamon, dried ginger, nutmeg and cloves. As to whether there's actual pumpkin in PSL-inspired cocktails is up to personal interpretation. Some bartenders will use the spices as a jumping off point for drinks, while others aim to incorporate the richness of fresh (or roasted) pumpkin puree.
In Chicago, Daniel Carlson plans to roll out a dedicated Pumpkin Spice week and will feature several drinks, including a Pumpkin Spice Daiquiri. He adds pumpkin puree and a healthy dose of ground cinnamon to a commercial pumpkin spice syrup. The pumpkin and the cinnamon will bring the sugar levels down, making the infused syrup akin to a 1:1 syrup, Carlson says. When presented with Pumpkin Spice Daiquiri, people may start off skeptical but quickly turn into converts. "You get the rum, you get the lime and the pumpkin definitely comes through with the cinnamon," Carlson says.
"This year, our recipe includes a lot more spices than maybe are usually used in a PSL,"
New York's Caitlin Burke says. Her spice mix includes cinnamon, clove and nutmeg but she also adds coriander, cardamom and black pepper. When combined with maple syrup, brown sugar and pumpkin puree, this forms the base for a seasonal take on the espresso martini. The syrup is mixed with vodka, black coffee liqueur, and oatmilk, then shaken up, poured into a coupe, and garnished with leaf-shaped wafer. "It brings people to an immediate happy place," Burke says. "It's really like a boozy pumpkin spice latte."
That's not to say that things can't go wrong. "I would definitely say that more spice does not equal more flavor," Mauro Hernandez, a bar manager in Anaheim, says. "These spices – clove, ginger, nutmeg – these are all moisture wicking spices. So if you put more of them in, you're just going to dry out either your syrup or your juices." Too heavy a hand on spices and you're in "Cinnamon Challenge" land, he warns.
Hernandez's tropical take on the PSL, the "Pumpkin In a Galley," infuses Coco Lopez with pumpkin puree and a spice mix. This fluffy pumpkin-forward base is added to two rums, fresh citrus and pineapple juices, demerara syrup and a few dashes of aromatic bitters and toasted pecan bitters. Whipped up with ice in a milkshake blender, the drink is poured over pebble ice into a long-stemmed glass. The coconut cream as well as the molasses from the rums give the drink rich coffee-with-milk notes, and showcase the spices in a fluffy, decadent holiday sipper.
In Manhattan, bar manager Nick Bennett aimed for a take on the PSL that played to another tried-and-true customer preference: the frozen drink. "We wanted to make a frozen whisky sour that tasted delicious and was fall-flavored, and that's where the pumpkin spice came into it," he adds. "It was about creating a delightful cocktail."
Bennett's "Frozen Something Pumpkin" is a spice-infused whiskey sour, served frozen. It's made from Wild Turkey 101, citrus juice, syrup, pumpkin puree and baking spices, and finished with fresh nutmeg and an orange half-moon. It became an instant best-seller after its debut in September. "Spices are in abundance and we want people to have something that they are familiar with," Bennett says. "But then we can also have a little bit of fun with it because it's all frozen and pre-batched."
When it comes to developing drinks, "I try to find something that's not too much 'just for the guest' and nothing that's too 'just for the bartender,'" Bennett says.
While the PSL will continue to be a source of debate, one aspect can be settled: baking spices will continue to spark new drink creations, and just like the emergence of auburn leaves, PSL-style cocktails will always return.
Check out our Campari Academy recipe: Wild Turkey 101 Pumpkin Pie Clarified Milk Punch