How To: Citrus Stock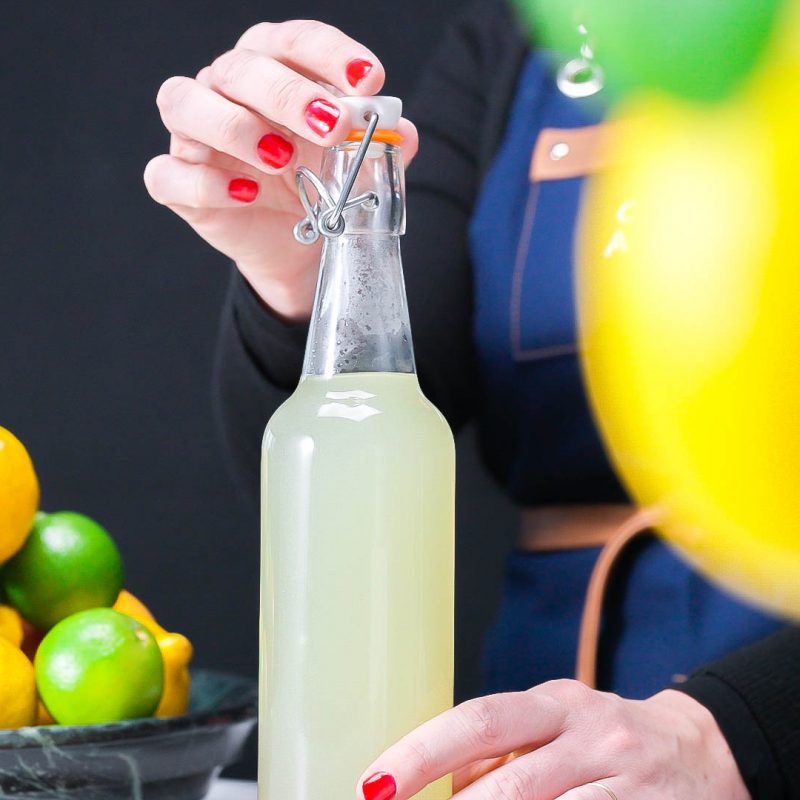 Making this DIY citrus stock is great for your pour costs and the planet.
---
Citrus stock entered the bartending subconscious in 2016 when Kelsey Ramage and Iain Griffiths founded (Trash) Tiki, an online platform that detailed how to reuse and upcycle common ingredients. The premise began as a way to make an essential component of cocktail-making (lemon and lime juice) more sustainable and to extend the life cycle of citrus in bars. Ramage, who went on to found Trash Collective, notes that lemons and limes are grown in only a few countries, which means that these humble citrus fruits generate a massive carbon footprint as they get shipped around the world. "We're trying to reduce the amount of usage because the fossil fuel costs of transporting lemons and limes are so ridiculous," Ramage says. "But it's the one ingredient that every cocktail bar around the world uses."
The citrus stock, when done correctly, doubles the amount of citrus juice per fruit and extends the life of the citrus by two or three days, provided it's refrigerated. Spent lemon or lime husks are blanched in boiling water, then removed after a few minutes (recipe follows). A sugar and acid blend is added to the water, and then combined with fresh juice. "This creates a stock juice blend that replicates lemon or lime juice very easily," Ramage says. (Note: The citrus stock recipe below is designed for lemons and limes; for other fruits, such as grapefruit, see Trash Collective's additional recipes.)
What are the things that can go wrong? As with any recipe, it's important to read through all the directions carefully first. The most common mistake, Ramage finds, is that bartenders don't know how to blanch husks correctly, and will either add the rinds before the water is fully boiling or let them sit too long in the water. Both mistakes result in overly bitter, pithy liquids.
Sometimes, where you make the citrus stock can result in subtle differences. "I've made this in a number of different countries," Ramage says. "I find that smaller lemons or limes will have a tendency to be less bitter whereas the bigger hormone-stuffed fruits have a tendency to get bitter really quickly. It's a timing thing and you have to adjust the recipe as you see fit."
Lemon Lime Citrus Stock Recipe
1-½ Liters Water
1 kilogram Spent Citrus Husks
19.5 g Citric Acid
13 g Malic Acid
52 g White Sugar
Instructions:
Bring water to a boil and add citrus husks, boil for five minutes. Remove husks, and measure by volume to 1,300 ml. Bring to a boil and reduce by half to 650 ml.
Add white sugar and stir until combined. Add Malic Acid and Citric Acid, stir well.
Let cool, blend with equal parts lemon-lime juice, and transfer to a non-reactive container. Store in the refrigerator for up to 3-4 days.
General Acid Ratios for making Citrus Stock
Lemon & Lime Varietals – 2% Citric and 1% Malic
Orange & Grapefruit Varietals – 1% Citric and 1% Malic
Mandarin, etc – 1% Citric and 2% Malic
Want to see how it works in action? Try Kelsey's lime stock in a Vitamin T cocktail:
Vitamin T (For Tequila)
Ingredients:
¾ part Espolon Tequila Blanco
¾ part Montelobos Mezcal Espadin
½ part Aperol
¼ part Passion Fruit Puree
½ part Lime Stock
¼ part Simple Syrup
1 Dash Saline Solution
1 Dash Habanero Bitters
Instructions:
Add all ingredients to a shaker tin with ice. Shake and strain fine strain over fresh ice into a rocks glass.