THE MARGARITA GETS A MODERN DAY MAKEOVER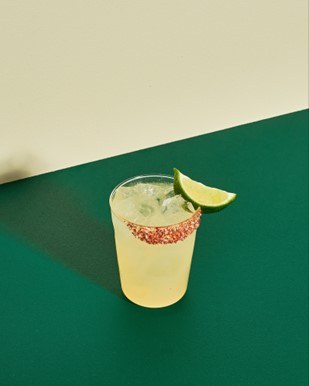 Is there a more adaptable, beloved drink than the Margarita? Negroni and Martini fans may protest, but the world's most ordered drink is mixology's version of an iconic pop star. The Margarita is constantly trying on new looks and personas, yet at its core remains true to itself. Cutting edge twists on the classic include clarified cordials, silky frozen treats and even a sleek update to the chunky salt rim.
---
No matter the shifts in direction, the Margarita's fans are along for the ride.
"It's a little tart, a little sweet," Portland bartender Matt Gumm says. "Margaritas are a hit any time of the year. It's three ingredients, four if you want to get nerdy about it. It's too simple to kill it."
"The acid from the lime or lemon keeps your palate salivating," Jason Tremper, director of operations for a national restaurant brand, adds. "There's so many different flavors going on at one time, that's really the most interesting component for me." The enduring popularity of the drink is backed up by sales; on a recent Saturday night, the Las Vegas venue Tremper oversees sold 750 Margaritas.
Veteran bartenders recall times when there were few quality ingredients to choose from. "I remember starting as a bartender 15 years ago, and there wasn't a drinking culture of amari and aperitifs," Jose Ignacio "Nacho" Jimenez, a beverage consultant in New York, says. The availability of liqueurs, such as Ancho Reyes Verde, has influenced drinks creators to shift the recipe in new ways. "I don't see any restrictions [to making adaptations] other than having tequila and lime juice," Jimenez adds. "Everything else is really up for grabs. If you have that sour, fresh element to it, then you can go as far as you want."
Classic Margaritas remain a constant for menus nationwide, but the adaptability of the recipe has pushed bartenders to rethink the drink's individual components. Maxwell Reis, a bar director in West Hollywood, created a centrifuge-clarified lime cordial (lime peels, juice, sugar and acids) which he simmers sous vide for two hours, resulting in silky, transparent citrus replacement. The cordial, acting as both the sweet and sour element, is then stirred with tequila (or mezcal) and served over a large cube, like an Old Fashioned.
In order to not break up the aesthetics of the clear drink with a chunky salt rim, Reis devised a saline gomme gel (salt, water, spent citrus peels and gum arabic, cooked sous vide) that he "paints" on the rim of the glass. "The cocktail is very clean-looking," Reis says. "The removal of the lime juice showcases the spirit, and brings it to the front of the cocktail. It winds up like a more serious Margarita you want to sit with. And it's gorgeous. Everyone flips out over it."
You'll also find a clarified, stirred Margarita (the "Gray Gusano") in Portland. Made with mezcal, Ancho Reyes Verde, habanero bitters, clarified lime and Becherovka, an herbal, bitter liqueur from the Czech Republic, it is also served over a big cube. The drink is an example of how to stretch classic specs into new forms, Portland's Matt Gumm notes. "Whatever you make, the whole has to be more than the sum of its parts," he says. "Is the end result better than the individual ingredients going into it?"
Frozen Margaritas occupy their own meticulous space in the bar universe. Mark Murphy, bar operations manager for a Philadelphia-based restaurant group, has spent a lot of time thinking about ways to perfect the frozen margarita. His take on achieving the perfect frozen texture? Removing the water as a source of dilution.
The water-based ingredients in a Margarita will freeze more than the alcohol; once frozen, a once-balanced drink will shift in flavor. When making frozen drinks. Murphy will instead look to ingredients that are already sweetened. Such as citrus sodas, white cranberry juice and apple juice, rather than relying on simple syrup and ice. "The biggest overarching idea of a frozen margarita is to nail down the proper amount of dilution," Murphy says. "When it's simply water, it feels thin and light. Citrus sodas give the drink a different texture."
Murphy adds that the idea translates even if you're making drinks at home or working with a blender. Whipping up a watermelon frozen margarita? Freeze the fruit in ice cube trays and omit the water. "Freezing things other than water is the best trick if you're doing blender things at home," Murphy says. "If you're adding ice to warm tequila, warm lime and warm sweetener, that ice is going to melt super quick. Anything I can do to get everything as cold as possible before I put it in the blender is going to help me get a super frozen drink."
However you serve it (blueberry-pomegranate Margarita, perhaps? How about Cynargarita?), the drink's enduring power is its flexibility. "Think about how many ways you can drink a Margarita – on the rocks, frozen, with or without salt, strawberry, mango, peach. . .," Jason Tremper muses. "You can add different flavors, and it changes the direction of the drink but it's still a Margarita. I don't know of a cocktail that has that many variations and can meet the needs of whatever that customer wants."
To learn some of our favorite takes on the Margarita, download the Margarita Booklet HERE >>