Negroni Tropicale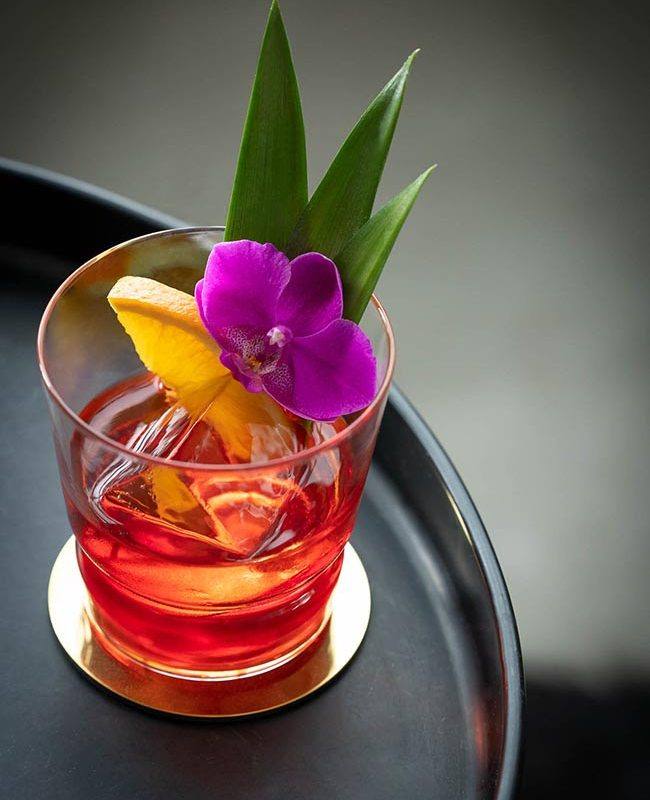 Explore the tropical Negroni trend with the bartenders creating the new cocktail category.
Ah, September. It's a month that carries both summer's warmth and a hint of autumn. If September were a drink, it would be a Negroni Tropicale, a remix of the iconic cocktail with a distinctive flair. A Negroni Tropicale is many things, among them: a lovely Venn diagram of sweet-meets-bitter, citrus-plus-herbaceous, sultry warmth overlapping with a spike of acidity.
The Negroni, the classic cocktail that's equal parts gin, sweet vermouth and Campari, has long captivated the bartender's imagination, and in recent years, it has undergone a range of iterations that have become classics unto themselves. One-off riffs have taken off, leading to recognizable new styles and even entire menus centered on Negroni variations.
Enter the Negroni Tropicale.
"This style of Negroni is within an emerging category which did not exist previously," New York bartender Garret Richard says. "It really started with bartenders taking the ingredients of tiki and saying, what else can we do with these ingredients?"
The Negroni specifically forms a great canvas for tropical flavors because of the acidity in vermouth and Campari's biting citrus character, Richard says. Years ago, Richard created the Beachcomber Negroni, using clarified lime and a grapefruit-cinnamon cordial based off a Zombie recipe. It became a sensation in Manhattan. "People went [to our bar] especially for that."
Garret Richard notes that Campari, in particular, pairs well with tropical flavors, from pineapple and passionfruit to coffee. "For some people, tropical drinks are just fruity but there are so many [tropical] drinks that are spice-driven, [and] even tea-driven," he notes. "Campari can plug into all those things because the product is well balanced."
Tropical flavors are emerging on menus, in part because the consumer wants them, San Francisco's Kevin Diedrich says. "The general public palate wants to have that experience," he says, noting, especially given the events of the past year, that consumers are seeking out ways to be transported away with a drink. "That essence of a tropical flavor for people–it's about the experience, like a good movie that takes you away."
Diedrich's Leeward Negroni, created for Negroni Week some years back, struck such a chord with consumers that what was supposed to be a one-off drink turned into a mainstay in his repertoire. Fat-washed coconut-infused Campari is mixed with gin, a pandan cordial and a few dashes of tiki bitters. "The Leeward incorporates tropical flavors without adding juice," Diedrich says, noting that the pandan, commonly used in baking in East Asian countries, delivers a buttery nuttiness, while the coconut oil lends the drink a velvety texture.
How far can a drink stretch the limits of its style before it becomes something else entirely? Put another way: How do bartenders balance innovation while playing within a classic context?
"With these tropical variations, you have to keep the central DNA in mind," Garret Richard says. "If you're going to attach the name Negroni or Old Fashioned or what have you to a new style drink. You have to make sure that the person you're giving it to can make that connection and it's not too much of a leap of faith."
"For me, a Negroni is something that's spirit-forward," Kevin Diedrich says. "It has to have a bittering element, it has to have Campari."
Looking ahead: Will these new tropical variations become as recognizable and requested as cannonical Negroni spin offs like the Boulevardier and Oaxacan Negroni? Hard to say but Diedrich and Richard point to several exciting things that bode well for the drink. New products, such as East Asian gins made with calamansi and pandan are arriving in the West. Leading to more people experimenting with techniques and palates from a range of regions.
"We'll start to see more interesting spirit-forward drinks that break the traditional rules," Richard predicts